AIDC REVEALS FIRST HEADLINE SPEAKERS, MARKETPLACE OPPORTUNITIES AND THEME FOR 2020 CONFERENCE
GENERAL REGISTRATION AND CUT TO THE CHASE APPLICATIONS NOW OPEN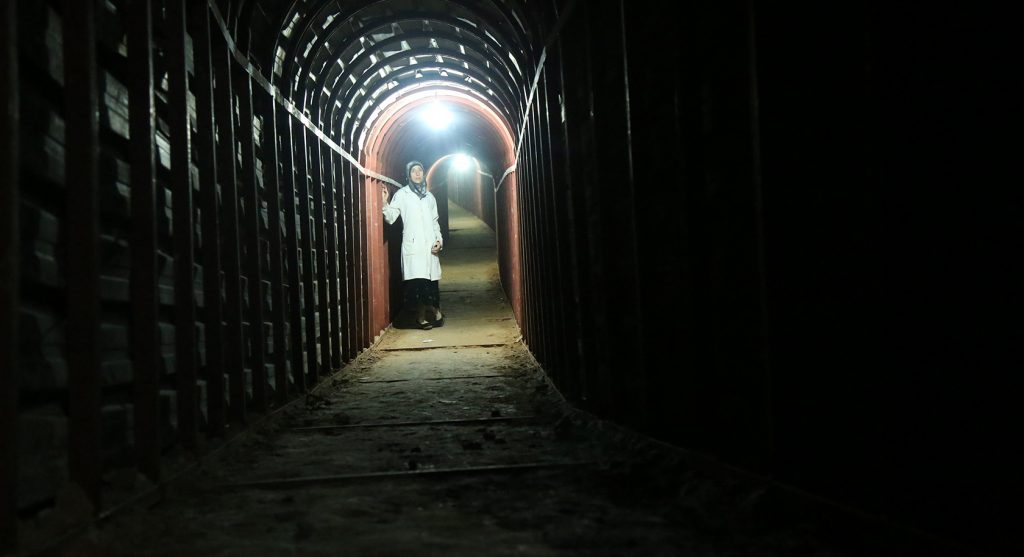 THE PATH TO AIDC 2020 STARTS HERE
General registration for the 2020 Australian International Documentary Conference (AIDC) opens today, with Australia's premier event for the documentary, factual and unscripted screen industry set to take place 1 – 4 March 2020 at State Library Victoria in Melbourne.
A focus on community, civic participation and new collaborations and partnerships will see guests and delegates at AIDC 2020 drawing on their collective intelligence to face the challenges and opportunities of the rapidly changing global documentary and factual market.
FIRST INTERNATIONAL GUESTS ANNOUNCED
The sense that collaboration, alliances and shared knowledge are the best tools for bringing about lasting change informs the announcement of the first four international speaking guests for AIDC 2020 – acclaimed feature documentary filmmakers Amy J. Berg (West of Memphis, The Case Against Adnan Syed), Feras Fayyad (Last Men in Aleppo, The Cave), BAFTA-winning factual producer Ninder Billing (The Garden) and data journalist Lam Thuy Vo (Buzzfeed, Wall Street Journal). Each speaker will lead a session in AIDC 2020's Masters series of masterclasses.
AMY J. BERG
Director Amy J. Berg is a BAFTA, Emmy, and Academy Award®-nominated American filmmaker responsible for compelling works that tackle abuse and injustice like Deliver Us From Evil (2006), West of Memphis (2012), produced by Peter Jackson, and An Open Secret (2014).
Most recently, Ms. Berg worked on The Case Against Adnan Syed (2019), a four-part HBO series taking a deeper look at the criminal case that inspired the podcast phenomenon Serial.
FERAS FAYYAD
Feras Fayyad is an award-winning filmmaker who has received wide-reaching recognition for his work on contemporary Syrian issues and the political transformation of the Arab world.
His most recent award-winning film The Cave (2019), about a makeshift underground hospital operating during the Syrian war, is a striking a companion piece to the acclaimed Last Men in Aleppo (2018), which earned him a 2018 Academy Award nomination and an Emmy for Best Documentary Feature.
NINDER BILLING
Ninder Billing is a BAFTA and Peabody Award-winning journalist, executive producer and commissioner of innovative programmes, from popular documentaries and formats to live events and current affairs on the UK's ITV, the BBC, Chanel 4 and Channel 5.
Currently an executive producer with the Magnus Temple-headed UK production house The Garden (24 Hours in A&E), she is behind the BAFTA-nominated Operation: Live and is also a passionate advocate for improving diversity in television.
LAM THUY VO
Lam Thuy Vo is a senior data reporter at BuzzFeed News where her area of expertise is the intersection of technology and society and social media data and where she's covered the spread of misinformation, hatred online and platforms-related accountability.
Previously, she's led teams and reported for The Wall Street Journal, Al Jazeera America and NPR's Planet Money and told economic stories across the U.S. and throughout Asia through articles, videos and graphics.
Lam Thuy Vo's participation is generously supported by Google News Initiative.
RETURN OF $60,000 DATA STORYTELLING PITCH, RAW DATA REAL STORIES
Lam Thuy Vo will be the lead judge on the panel of the returning Raw Data, Real Stories, AIDC and Google News Initiative's ground-breaking pitch for new nonfiction works that bring raw data to life.
Now open for submissions by journalists and nonfiction storytellers from all backgrounds, four proposals will be selected to receive $5,000 each to develop a proof of concept for a project to be pitched at AIDC 2020.
The winning team will receive $40,000 of project funds to turn their raw data into a new creative work for a real audience.
AIDC MARKETPLACE OPENS WITH OVER HALF A MILLION DOLLARS IN FUNDS
With the Raw Data, Real Stories pitch, AIDC can now confirm it has secured over $500,000 in funds for projects to be pitched through its Marketplace initiatives, which also includes the Witness Pitch (presented by Al Jazeera & Screen Australia), Pitch Australiana (presented by VICE & Screen Australia), and Australia Uncovered (presented by SBS & Documentary Australia Foundation).
These initiatives complement AIDC's central public pitching program, FACTory 2020 (submissions now open), and the opening today of applications for AIDC's curated one-on-one meet-market, Cut to the Chase.
Local and international decision makers confirmed for Cut to the Chase and FACTory 2020 include Sundance, BBC, Al Jazeera, ESPN, Dogwoof, Cineflix Rights, Little Dot Studios, NHK, TVF International, TCB Media Rights, Java Films, Audible, ABC, SBS and Discovery, with many more to be announced over the coming months.
Cut to the Chase is open to all delegates with an All Access or Gold pass, with submissions open until Wednesday 5 February 2020.
AIDC 2020 THEME: COLLECTIVE INTELLIGENCE
The theme bringing all of these announcements together is Collective Intelligence, a concept inspired by both the collaborative strength of the nonfiction screen community, and AIDC 2020's stunning venue, the beautifully refurbished State Library Victoria.
Hosted in a public space that connotes community building, open-source knowledge-sharing, and civic and cultural participation, AIDC 2020's celebration of 'collective intelligence' is designed to provide a program and marketplace dedicated to building new relationships, collaborations and partnerships
"THERE IS DYNAMISM IN COLLABORATION"
AIDC CEO & Conference Director Alice Burgin said of the theme, "In the past 12 months alone, our industry has seen so many new and often surprising alliances and partnerships, be it across broadcasters, creative teams, streaming platforms and even industries. The very idea of collective intelligence allows us to explore these new relationships, recognising that there is dynamism in collaboration."
This is an idea also confirmed by Film Victoria CEO Caroline Pitcher, who said: "AIDC is the premier meeting place for filmmakers with the passion and talent for factual storytelling. Every year new partnerships are formed, brilliant ideas are hatched and incredible experiences are shared at this vibrant conference, and we're thrilled to be the principal partner again in 2020."
PASSES ON SALE NOW
AIDC 2020 takes place 1 – 4 March 2020 at State Library Victoria in Melbourne, Australia. All Access, Gold and Focus Passes are on sale now.
29 October 2019
AIDC TO LEAD AUSTRALIAN DELEGATION TO HOT DOCS 2020
Read More
8 November 2019
All About Amy J. Berg
Read More