Meet Your Maker XR Marketplace Projects Announced
NINE CUTTING-EDGE PROJECTS REVEALED FOR AUSTRALIA'S ONLY INTERACTIVE NON-FICTION PITCH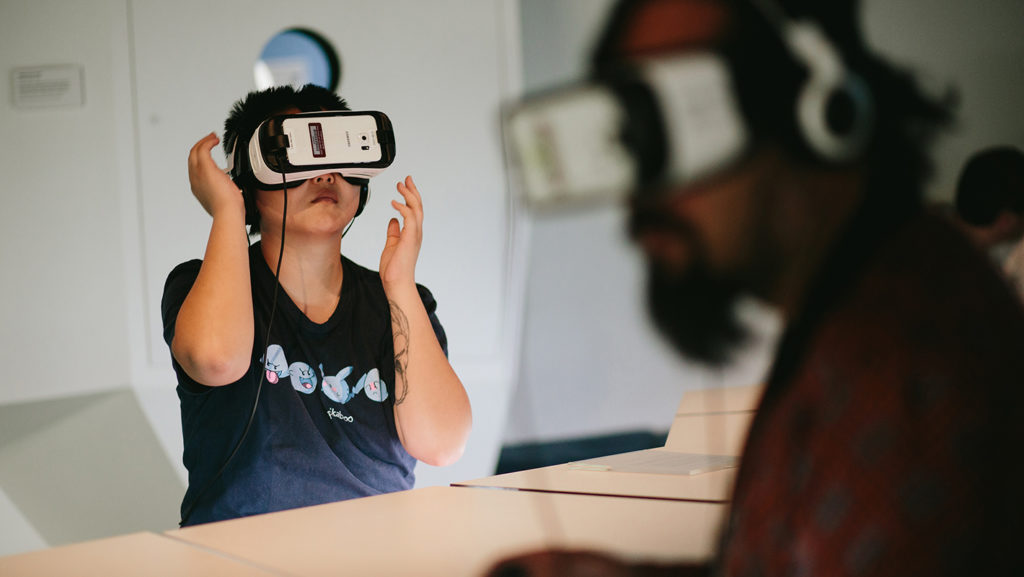 AIDC's unique pitching forum for VR, AR and interactive non-fiction work – the Meet Your Maker XR Marketplace – will feature nine exciting and innovative new projects in its third annual edition in 2019.
The only event of its type in Australia, Meet Your Maker is designed to connect non-fiction creators working in the XR sector with a variety of funders, festivals, exhibitors and buyers.
The projects selected for this year's Meet Your Maker include:
Prison X
(UNF Pty Ltd, United Notions Film LLC, Fat VR)
Prison X is an arcade role-play interactive documentary, hand-painted in VR.
#NastyWomen
(Media Stockade & Visitor Vision)
A virtual reality documentary experience that brings to life forgotten women from the historical cutting room floor, unearthing the brave, brilliant, unladylike and difficult women who weren't afraid to be dangerous, flawed and nasty.
Move – VR
(Illuminate Films)
Test your mental limits with Parkour artistry in Sydney's toughest concrete jungle.
Forgotten
(StarSapphire Productions & Ai3D)
If you disappeared tomorrow, how long before someone noticed?
Thin Ice VR
(Monkeystack)
100 years ago, Shackleton was on a mission to save his men from the ice, now Tim Jarvis and Anna Rose are on a mission to save the ice caps from man.
Heroes of the Skies: a VR story
(Lateral Vision)
Two brothers embark on a race of epic proportions, the first ever flight from England to Australia in the Great Air Race of 1919.
Canopy: Love Letters to Our Trees
(Wilding Productions, Visitor.Vision)
Canopy: Love Letters To Our Trees is an interactive VR documentary that uses scientific data to explore the complex relationship between humans and the natural world. 
The Nyittiny – Creation stories from Noongar country
(Sea Dog TV International)
With storytelling brilliance and incandescent vocals in Nyittiny (The Creation), Gina Williams and Guy Ghouse connect and capture audiences, merging rare Noongar language with evocative sounds, poignant stories, stunning animation and the latest VR technology.
Virtual Yagan VR
(Periscope Pictures Pty Ltd)
This 'time travel' VR documentary immerses audiences in both pre-contact Whadjuk Noongar culture and a pre-settlement Western Australian landscape, using the latest advances in interactive storytelling technology.
Teams from these projects will meet Decision Makers from companies and organisations as diverse as Microsoft, Google News Initiative, Science Gallery, SBS Digital, Melbourne International Film Festival (MIFF), Screen Australia, Deakin Motion Lab and Museums Victoria.
The Meet Your Maker XR Marketplace is one of AIDC's many initiatives aimed at developing innovation in non-fiction storytelling and building a sustainable future for tech-driven factual work.
Prior staging of the Marketplace has successfully resulted in:
Over $1.1million in development and production funding from Screen Australia, Film Victoria, Screen West, SBS, NITV as well as private equity.
Over 20 screenings at prominent film festivals including Venice Film Festival, Marche du Film Cannes and SXSW
Creative partnerships with local and international organisations including Warner Brothers, Australia Museum, Museums Victoria and Greenpeace.
The Meet Your Maker XR Marketplace will run during AIDC 2019 on Sunday 3 March. Please note, the Market is open only to approved participants.
20 February 2019
Untold Australia Pitch Projects Announced
Seven Projects Confirmed to Take Part in $60,000 SBS Pitching Forum

Read More
26 February 2019
Nominees for AIDC Board Vacancy Revealed
If you're attending AIDC 2019, be sure to vote in the AGM for our new board member

Read More