DOC SOCIETY & AIDC OPEN SUBMISSIONS FOR 2022-2023 ART & IMPACT FELLOWSHIP
APPLY NOW TO TAKE PART IN YEAR-LONG CREATIVE MENTORSHIP & IMPACT STRATEGY FELLOWSHIP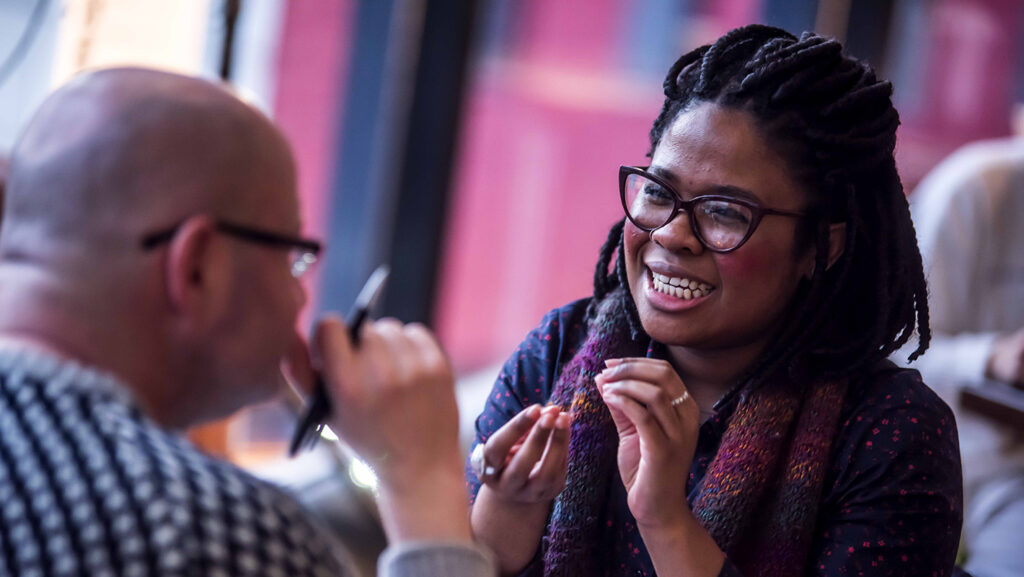 AIDC is pleased to once again partner with Doc Society to present the second Art & Impact Fellowship program. Both organisations are now calling for social impact documentary storytellers to join a year-long creative mentorship and impact strategy fellowship starting this September, 2022.
Supported by Screen Australia's Enterprise Funding Program, Doc Society's Art & Impact Fellowship in partnership with AIDC will assist Australian project teams to build effective strategies for using an independent documentary project as a tool for change, focusing on storytelling skills, developing impact campaigns and distribution strategies, creating audience engagement and finding new pathways to finance. 
Led by Global Director of Good Pitch at Doc Society, Malinda Wink, and Doc Society's Director of Australian Programs, Hollie Fifer, the program begins with a five-day Story & Impact Lab from 12-15 September 2022. Ongoing support includes workshops and mentoring and an All Access Pass to the next AIDC in March 2023.
Applications are now open, with a submission deadline of 10 July 2022. There are no fees to apply or participate. 
The Fellowship is seeking teams creating ambitious documentary stories that tackle a national or global issue, with something important to show about the world or ourselves.
Projects within the broad canvas of documentary are welcome – films, podcasts, VR or mixed media. Projects can be at any stage, from early production to rough cut.
"We are looking forward to a new cohort of ambitious, original projects that give us a unique perspective and insight across a broad thematic canvas including: social movements and democracy, climate and economic transition, gender and racial justice, and First Nations sovereignty," said Malinda Wink, Global Director Good Pitch, Doc Society. 
"We will be looking for projects that centre the voices and communities most affected by the issue presented, and welcome applications from teams who are keen to disrupt the status quo both creatively, and in their impact ambition," 
"Since launching this program in 2021 we have had the privilege of supporting Australian documentary and non-fiction storytellers stretch their storytelling muscle and progress their projects after collaborating with global and local mentors," said Hollie Fifer, Director of Australian Programs, Doc Society. 
"Over the year we called upon our global community including Oscar shortlisted filmmakers Sushmit Ghosh and Rintu Thomas from Writing with Fire, Producer Alice Henty and Impact Producer Alison Byrne Fields from Sundance Jury Prize winning Welcome to Chechnya; Sahar Driver who is the driving force with Sonya Childress behind the recently launched Colour Congress; and Andrea Ixchiu, Guatemalan artist and activist, whose struggle for indigenous justice has been captured in 500 Years. We are thrilled now to open applications again for a strong 2022/23 cohort." 
"Following the success of the inaugural Art & Impact Fellowship, AIDC is thrilled to be collaborating with Doc Society once again to present a world-class initiative that supports and elevates new visions and bold stories for change on a global stage," said Natasha Gadd, CEO / Creative Director, AIDC.
"The fellowship is a vital opportunity for documentary makers with ambitious projects to develop storytelling skills and impact strategies over the year-long program and AIDC is delighted to offer the successful project teams an All Access Pass to participate in the AIDC 2023 industry marketplace."
Participants from the inaugural 2021-2022 Fellowship have encouraging advice for those thinking of applying.
"Through the Lab, I've been exposed to thinkers and practitioners from across the globe who are doing incredibly dynamic and important work that I wasn't aware of," said Founder and Director of GARUWA, Genevieve Grieves, of her experience in the Art & Impact fellowship.
"The Impact Lab has really expanded my vision of what's possible and put me directly in touch with these people so I can talk and collaborate with them in the future."
Alex Kelly, a filmmaker and Impact Producer based in Castlemaine, also remarked of her time in the Fellowship:
"None of us make work in isolation and being part of a community of practice strengthens all of our work, our ethics and our creativity.
"This lab is a balm in a truly wild time. It allows us to reflect and challenge ourselves in ways that will push us to make better work with better processes. At a time of so many intersecting crises when filmmaking is so important, honing our craft is critical and important work."
1 June 2022
APPLICATIONS OPEN FOR 2022 INDIGENOUS DOCUMENTARY PLACEMENT
Read More
15 June 2022
AIDC, SCREEN QUEENSLAND & SCREENWORKS LAUNCH REGIONALITY CAIRNS
Read More