CELEBRATING THE AGENTS OF CHANGE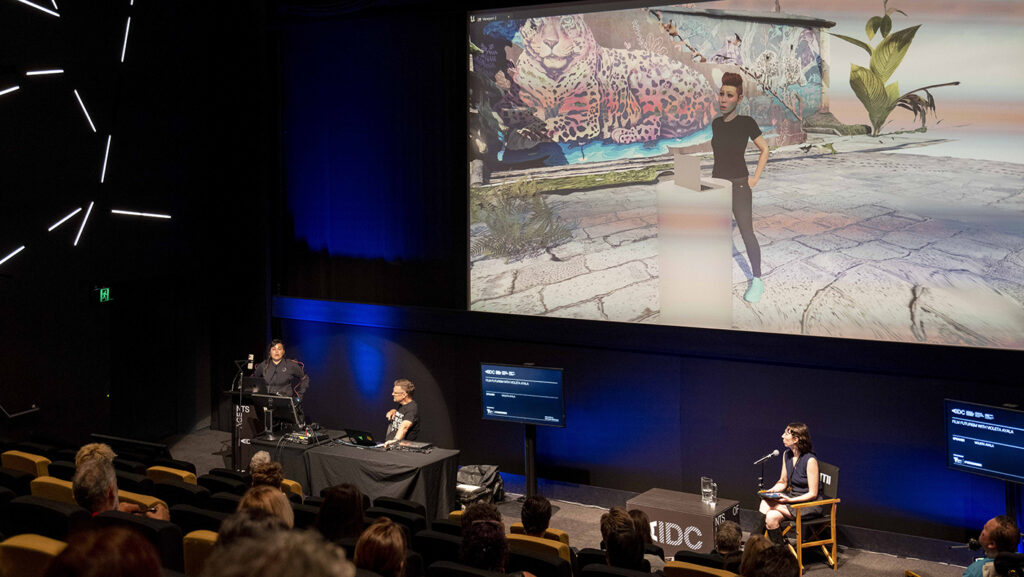 AIDC WRAPS FOR 2023 AFTER A RECORD-BREAKING YEAR
We would like to extend a huge thank you to all of our collaborating partners and every individual who attended and participated in AIDC 2023! Held in-person at ACMI, Melbourne from 5-8 March 2023, the main program officially ended last Saturday with the completion of the 9-11 March online international marketplace.
Drawn by the prospect of gathering face-to-face after two previous hybrid and virtual outings, AIDC welcomed 820 documentary and factual industry delegates to its 2023 event, the highest number in 20 years and the most-ever attendees since the event moved to Melbourne in 2016.
With 715 delegates attending in-person, AIDC's home venue of ACMI, as well as side venues, The Edge and Koorie Heritage Trust in Fed Square, played host to an enthusiastic gathering of screen, interactive, and audio documentary and factual creatives, alongside an array of local and international commissioners, distributors, funding bodies, foundations and more.
105 online delegates also joined from various corners of the globe, with participants representing 21 countries accessing the program of 52 sessions, pitches, workshops and screenings, and taking part in a record 617 structured meetings during both the in-person conference (5-8 March) and online international marketplace (9-11 March).
AIDC CEO & Creative Director, Natasha Gadd, said, "Celebrating the Agents of Change of nonfiction storytelling, AIDC 2023 facilitated opportunities for bold and courageous projects in all stages of development through live pitches, screenings, sessions and marketplace meetings. Attracting our highest number of delegates in twenty years – including the return of international guests and the largest contingent of First Nations practitioners in AIDC's history – AIDC generated a buoyed spirit of collaboration, connection and inspiration! Thanks to our industry partners, this year we unlocked over $350,000 in project and personal development funding, awards and prizes to continue to support and elevate doc and factual storytelling across all forms"
AIDC DELEGATES | IMAGE CREDIT: WILLIAM HAMILTON-COATES
AIDC CEO / CREATIVE DIRECTOR NATASHA GADD | IMAGE CREDIT: MELISSA BUTTERS
FROM THE LOCAL TO THE GLOBAL, THE PERSONAL TO THE PUBLIC
AIDC 2023 launched with a VicScreen-presented Innovation Day on Sunday 5 March, featuring sessions and workshops dedicated to future visions, new technologies and innovative storytelling techniques. Highlights included Film Futurism with Violeta Ayala, exploring the use of AI and real-time character creation in documentary; Experiential Storytelling, a conversation between award-winning artist Lynette Wallworth and curator Marie Foulston; Docs in the Age of TikTok, exploring bite-sized, user-generated documentaries, and the return of the Doc.Lab.Interact storytelling lab, led by award-winning UK studio Anagram. 
Inspired by the 2023 theme 'Agents of Change', further session highlights at AIDC 2023 featured creators from three 2023 Academy Award-nominated films, including Love in the Time of Archive (presented by VicScreen), a fascinating conversation with Sara Dosa, director of Fire of Love; Taking Flight, in which producer Aman Mann provided insight into the making of the lauded All That Breathes; and Courage of Conviction in Investigative Storytelling, featuring Daniel Roher, director of the subsequent 2023 Academy Award-winning Navalny, and Emma Sullivan, director of Netflix's Into the Deep. 
Delegates packed out UK executive producer Fatima Salaria's Masterclass in Doc Series Producing and David Farrier's Documentary of the Absurd, as well as sessions looking at global opportunities for Australian documentary and factual producers – including Band of Broadcasters: Global Collaborations & Initiatives (presented by Screen NSW), and Spinning the Globe: Meet the Internationals. Sessions with a focus closer to home also drew big audiences, including The Future of Theatrical Documentary (presented by VicScreen), Ask Screen Australia, the SBS presented Playing with Form in Factual, Meet the SBS & NITV Commissioners, and the ABC-presented Trust Matters: How Journalistic Rigour Underpins the Success of ABC Docs and What Makes a Hit Show?
Audio, sports, and relationship documentaries also went under the microscope in the sessions Soundwaves: Anatomy of an Audio Scene; Blood Sports: Wading into the Competitive World of Sports Docs, and True Romance: The Ethics of Love, Sex and Relationships in Documentary, alongside deeply insightful explorations of queer content in the documentary space, the ethics of documentary participation and the transformation of reporting into doc storytelling in sessions Getting Queer-ious, hosted by Patrick Abboud, The Documentary Participant: At What Cost? hosted by Alex Kelly, and Investigative Journalism to Long Form Screen Features, presented by Stan.
DOCS IN THE AGE OF TIKTOK SESSION | IMAGE CREDIT: MELISSA BUTTERS
SANTILLA CHINGAIPE, MODERATOR FOR LOVE IN THE AGE OF ARCHIVE AND COURAGE OF CONVICTION IN INVESTIGATIVE STORYTELLING | IMAGE CREDIT: MELISSA BUTTERS
GETTING QUEER-IOUS SESSION | IMAGE CREDIT: WILLIAM HAMILTON-COATES
RECORD-BREAKING MARKETPLACE PARTICIPATION
The VicScreen-presented FACTory, AIDC's international pitching showcase, saw 14 projects with teams representing 10 countries pitch to 32 in-person and online decision makers across the Central Showcase, New Talent Showcase, and Rough Cut Showcase categories. 
Projects to secure FACTory pitch prizes in the form of international marketplace access included Bukal Bukal (Sunny Side of the Doc Prize, France), Winter Herd (Sheffield Doc/Fest Prize, UK), I Thought Jesus was Korean (Hot Docs Prize, Canada), and ​​Untying the Knot (DOK Leipzig Prize, Germany).  
AIDC's one-on-one pitch meeting market Cut to the Chase (presented by Xe Money Transfer) also curated an AIDC record of 617 meetings for 125 documentary and factual projects with 106 industry decision makers, highlighting the enhanced access to international executives as a result of AIDC's combined in-person and online marketplace. Cut to the Chase also included three of AIDC 2023's partnered pitches, with 31 projects taking part across The Post Lounge Doc Pitch, the DocPlay Originals Pitch, and the Shark Island Foundation Feature Docs Pitch.
AIDC 2023 also saw the debut of the Fresh Cuts Documentary Pitch for content with appeal for young adult audiences, with all five participating projects – Bimbo Biology Body Breakdown, Dying to Succeed, Glitter Gang, The Real Meaning Of Pleasure, and Replica – each securing $30,000 in development funding from Screen Australia. 
THE FACTORY | IMAGE CREDIT: MELISSA BUTTERS
FRESH CUTS DOCUMENTARY PITCH | IMAGE CREDIT: MELISSA BUTTERS
AN INCLUSIVE AND DIVERSE SECTOR
AIDC 2023's program and delegate base reflected the developing inclusivity and diversity of the documentary and factual sector, with women representing 58% of total registered delegates, and a record 79 participants in AIDC's Indigenous Creators Program for First Nations practitioners, curated in 2023 by First Nations Producer Laurrie Brannigan-Onato. 
AIDC's Indigenous Creators Program remains the only program of its kind in Australia, created specifically by and for First Nations practitioners in documentary and factual, with 2023 sessions including First Nations Archive – Still We Rise, Finding the Right Producer, and Meet the Decision Makers Seeking Indigenous-Led Stories. These sessions ran in parallel with open conference sessions with Indigenous themes, including First & Foremost: First Nations Knowledge Through Documentary, and Generations: Looking Back at First Nations Factual.
This year AIDC also welcomed six Canadian First Nations practitioners as part of the Hot Docs-led Canadian Delegation and the Innovation Day session Indigenous Voices, Future Visions.
Thanks to philanthropic contributions from 16 production companies, broadcasters, support organisations and individuals to AIDC's Leading Lights Fund, 37 emerging, Indigenous and CALD (culturally and linguistically diverse) practitioners from across Australia were introduced to the sector at this year's conference. Including a special Leading Lights Pitch (presented by AFTRS) for practitioners to hone their pitching skills on industry representatives, the program continues to embody AIDC's commitment to bringing new and diverse nonfiction storytellers to the industry fold.
FIRST NATIONS PRODUCER LAURRIE BRANNIGAN-ONATO MODERATING THE FIRST & FOREMOST SESSION | IMAGE CREDIT: MELISSA BUTTERS
LEADING LIGHTS PITCH MENTORING SESSION | IMAGE CREDIT: MELISSA BUTTERS
OUTSTANDING WORK RECOGNISED
Announced last week after a Wednesday 8 March presentation ceremony hosted by radio and television journalist Ash London in ACMI, the third annual AIDC Awards saw the following projects take top honours: Best Feature Documentary – Wash My Soul in the River's Flow (with a $5,000 cash prize provided by Film Finances); Best Documentary / Factual Series – The Australian Wars; Best Documentary / Factual Single – Still We Rise (with a $5,000 cash prize provided by Artisan Post Group); Best Short-Form Documentary – Eden Alone Surpasses Thee; Best Audio Documentary – The Greatest Menace: Inside the Gay Prison Experiment (with a $3,000 cash prize provided by AFTRS); Best Interactive / Immersive Documentary – Night Creatures (with a $3,000 cash prize provided by Deakin Motion Lab.
The Stanley Hawes Award acknowledging outstanding contribution to the sector was also announced, with documentary filmmaker and educator Dr Cathy Henkel receiving the honour and a $5,000 cash prize.
AIDC AWARDS HOST ASH LONDON | IMAGE CREDIT: WILLIAM HAMILTON-COATES
AIDC AWARDS BEST SERIES WINNERS FOR THE AUSTRALIAN WARS, [L-R] JOSEPH MAXWELL (SBS), DARREN DALE (BLACKFELLA FILMS), RACHEL PERKINS, & JACOB HICKEY (BLACKFELLA FILMS) | IMAGE CREDIT: MAX ROUX
MORE TO COME FROM AIDC IN 2023
Although the 2023 conference is over, registered AIDC delegates can watch sessions on catch-up for another month via the AIDC Conference App. 
AIDC will continue to work to support the documentary and factual sector year-round, soon announcing a new REGIONALITY one-day documentary and factual screen industry event specifically for practitioners in regional areas, and also seeking new donors for the 2024 Leading Lights Fund.
Keep watch on the AIDC eNews for news and announcements about upcoming programs, developments, and the post-conference survey.
AIDC also thanks its many industry partners – particularly VicScreen, ACMI, Screen Australia, ABC and SBS – without which this year's event would not have been possible. 
AIDC 2023 ran 5-8 March 2023 at ACMI, with an online-only international marketplace 9-11 March 2023. www.aidc.com.au
---
Main Image: Film Futurism with Violeta Ayala, AIDC 2023 | Image credit: Melissa Butters
AIDC DELEGATES | IMAGE CREDIT: WILLIAM HAMILTON-COATES
9 March 2023
AIDC 2023 Award Winners Announced
Read More
21 March 2023
Successful Projects from AIDC 2023 Post Lounge & Shark Island Foundation Pitches Revealed
Read More