AIDC 2023 Award Winners Announced
PLUS, FACTORY PITCH PRIZE WINNERS, FRESH CUTS FUNDING RECIPIENTS, AND MORE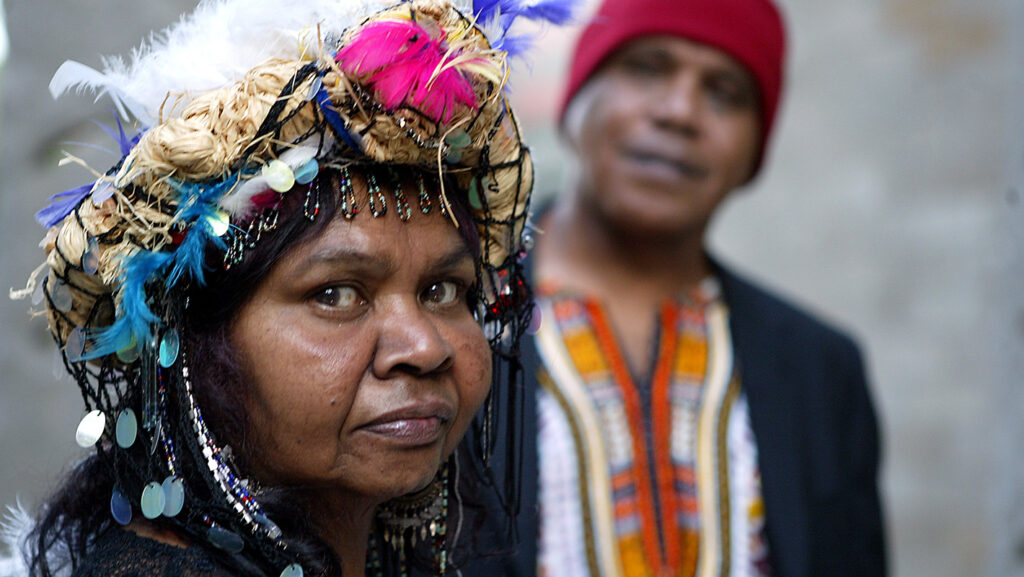 Last night at a special presentation hosted in ACMI, Melbourne, the Australian International Documentary Conference (AIDC) announced the winners of the 3rd Annual AIDC Awards. 
Hosted by Australian radio and television journalist Ash London, the AIDC Awards ceremony marked the conclusion of the four-day conference for the documentary and factual industry, with three more days of International Marketplace meetings still to come (9-11 March). 
The 2023 event saw the attendance of over 800 delegates, including the participation of 147 local and international speakers, and 106 local and international decision makers in a program of 40-plus sessions and over 600 curated meetings, with many more spontaneous meetings made throughout the event.
The AIDC Awards provided the perfect capstone to the 2023 conference, acknowledging the very best in Australian documentary and factual from the past 12 months.
THE WINNERS OF THE 3RD ANNUAL AIDC AWARDS, AS SELECTED BY THE AIDC AWARDS JURY, ARE:
BEST FEATURE DOCUMENTARY
With a $5,000 cash prize presented by Film Finances
WINNER | WASH MY SOUL IN THE RIVER'S FLOW | 2022
Philippa Bateman, Archie Roach (AC), Kate Hodges, Ian Darling, Emma Donovan
JURY STATEMENT: "Philippa Bateman's Wash My Soul in the River's Flow celebrates the talents and carries the passions of two of Australia's most revered and beloved musicians – Archie Roach (AC) and Ruby Hunter – through a performance of their sublime Kura Tungar: Songs from the River song cycle. Elegant, confident, and intimate to its magnetic subjects, Bateman's film so impressively captures a setting and a stage where music compels the story of their lives, and where it stands proudly in resistance against the injustices of our history.
Through an ambitious and outrightly beautiful combination of concert film, biography and political struggle, Wash My Soul in the River's Flow is a profound sharing of Roach and Hunter's own gifts of storytelling; a film full of heart, the beauty of song, and the transcendent power of art to confront pain, and to heal."
Wash My Soul In The River's Flow
BEST DOCUMENTARY / FACTUAL SERIES
WINNER | THE AUSTRALIAN WARS | 2022
Rachel Perkins, Darren Dale, Jacob Hickey
JURY STATEMENT: "From the opening minutes, we all agreed that The Australian Wars stood out as a superbly crafted piece of television. But as those opening minutes went by, it quickly became apparent how such masterful craftsmanship was serving a story of far-reaching significance. The direction, editing, writing and music fused seamlessly together to draw us into a heart-stopping narrative that illuminated another dark corner in Australia's colonial history. 
"Rachel Perkins and her team took an incredible and creative approach toward this mini-series, making some bold and beautiful choices along the way to manifest some ugly truths that may affect common historical narratives. The dramatic reenactments were some of the best all of us had seen, and the sheer calibre and diversity of expert historical analysis elevated this mini-series to the realms of essential classroom viewing – possibly filling the gaps left open by current Australian and European textbooks. Bravo to the entire team behind The Australian Wars."
The Australian Wars, Rachel Perkins, Photo by Dylan River
BEST DOCUMENTARY / FACTUAL SINGLE
With a $5,000 cash prize presented by Artisan Post Group
WINNER | STILL WE RISE | 2022
John Harvey, Anna Grieve, Leon Rodgers, Patrick McCabe
JURY STATEMENT: "We were very impressed by the combination of a retrospective story feeding into a timely present-day political conversation, creating a mosaic of archival material which brought Indigenous history through in a modern way, which would appeal to both an Australian and global audience, whether familiar with the story and material or not. We loved the way it avoided didactic narration and used sound and music to make something radical for a mainstream TV audience. This was exciting modern filmmaking."
BEST SHORT-FORM DOCUMENTARY
WINNER | EDEN ALONE SURPASSES THEE | 2022
Tom Chapman, Gabriel Morrison, Finn Clarke, Geri Docherty
JURY STATEMENT: "Eden Alone Surpasses Thee is a compelling and thought-provoking piece of cinema. The filmmakers have done a beautiful job of portraying the struggles of young men with empathy and compassion. Through intimate and striking cinematography, they have crafted a thoughtful film that tackles a complex topic, demonstrating that communication can play an essential role in the healing process. Eden Alone Surpasses Thee is a powerful and necessary film that all should see."
BEST AUDIO DOCUMENTARY
With a $3,000 cash prize, presented by AFTRS.
WINNER | THE GREATEST MENACE: INSIDE THE GAY PRISON EXPERIMENT | 2022 / 2023
Patrick Abboud, Simon Cunich
JURY STATEMENT: "Patrick Abboud's investigation into the world's only 'gay prison' combined forensic reporting with personal insight to tell a story that was by turns shocking, heartwarming, funny, and gripping. It carefully excavates a dark history full of painful truths about systemic homophobia and the legacy it leaves behind, never shying away from the intricacies and unusual moments that Pat comes across along the way. The makers demonstrate an expertise in the form, and it was the sort of series that reminded us of why we love audio storytelling."
The Greatest Menace: Inside the Gay Prison Experiment
BEST INTERACTIVE / IMMERSIVE DOCUMENTARY
With a $3,000 cash prize presented by Deakin Motion Lab
WINNER | NIGHT CREATURES | 2022
Isobel Knowles Van Sowerwine, Philippa Campey.
JURY STATEMENT: "Whilst we were impressed by so many of the year's amazing interactive works, Night Creatures stood out with its impactful use of stop-motion AR characters; activated by the naturally accessible audience of queueing ticket holders. We loved the artful animation style, the appealing characters and the delivery of story fragments that were full of reminiscence, whimsy, and charm. 
We appreciated the consideration of the artists to conceive of a work that could be iterated on — creating the opportunity for a long-lived evolving work in the developing field of AR. All up, we found 'Night Creatures' to be a wonderful example of intimate storytelling, technology and accessible experience all coming together in a very compelling way and we are thrilled to name it the 2023 winner of AIDC's Best Interactive/Immersive Documentary."
2023 STANLEY HAWES AWARD
As part of the AIDC Awards ceremony, the already-announced 2023 Stanley Hawes Award was presented to filmmaker, Dr Cathy Henkel.
Cathy began her career in documentary filmmaking in 1988, after previously working as the artistic director for Australian amateur theatre company, the Shopfront Theatre for Young People. Exploring such topics as humanity's effect on the environment, the importance of ecological activism, and pursuit for justice, Cathy continues to be a champion for change as the Director of the WA Screen Academy at Edith Cowan University.
She is a lasting positive influence in our sector and a passionate advocate for the creative arts. We congratulate Cathy on winning the award and look forward to the inspiring work she does next.
PITCH PRIZES
During the Awards Presentation, AIDC CEO / Creative Director Natasha Gadd also announced the winners of the FACTory Pitch Prizes, awarded to participating projects by international documentary festivals and markets. 
The winners include:
Sheffield Doc/Fest Prize
Winner: Winter Herd (FACTory Central Showcase)
Two complimentary festival passes to participate in Sheffield Doc/Fest 2023 (Sheffield, UK)
"We were really impressed by this project's cinematic quality and how it not only captured the beauty of the vast landscapes, but the perception of its focus on the character relationships." Mita Suri, FIlm Programme Producer, Sheffield Doc/Fest (UK)
Hot Docs Prize
Winner: I Thought Jesus Was Korean (FACTory New Talent Showcase)
Two complimentary passes to participate in Hot Docs Industry 2023 (Toronto, Canada)
"We are so pleased to support a documentary about uncovering the mystery of followership and obsession, which we find especially relevant in this day and age, even though the inception of the story occurs in the past."  Heidi Tao Yang, Director Labs & Funds, Hot Docs (Canada)
Sunny Side of the Doc Prize
Winner: Bukal Bukal (FACTory Central Showcase)
Two complimentary passes to participate in Sunny Side of the Doc 2023 (La Rochelle, France)
"Bukal Bukal presents amazing storytelling so relevant to many First Nations people throughout the world. We believe that Sunny Side could be the perfect platform to help find all the worldwide partners this great project deserves!" Jean-Jacques Peretti, Programming, Sunny Side of the Doc (France).
DOK Leipzig Prize
Winner: Untying the Knot (FACTory New Talent Showcase)
Two complimentary passes to participate in DOK Leipzig 2023 (Leipzig, Germany)
"[This is] a highly important and urgent documentary project that amplifies the voices of courageous Filipino women fighting unacceptable injustice and campaigning for the legalisation of divorce and more equal rights and protection for women in their country.The film's moving personal accounts and in depth insights in Filipino society and power structures will certainly engage with audiences worldwide, raise awareness and help bring about change." Roland Löbner, Coordinator DOK Film Market, DOK Leipzig
Additionally, Ms Gadd announced that all five finalists in the inaugural Fresh Cuts Documentary Pitch, aimed at supporting documentaries that appeal to younger audiences, will receive $30,000 in Screen Australia development funding for each of their projects – Bimbo Biology Body Breakdown, Dying to Succeed, Glitter Gang, The Real Meaning of Pleasure and Replica.
After the announcement, Alex West, Head of Documentary for Screen Australia, said, "We were blown away with the quality of these pitches and, following the panel's very positive feedback in the live pitch we decided we couldn't choose one winner, so we're thrilled to be able to support all five teams with development funding."
AIDC congratulates all Awards and FACTory Prize winners, including all the nominees and projects that have participated in the Awards, FACTory and Fresh Cuts programs this year.
I THOUGHT JESUS WAS KOREAN
BOARD APPOINTMENTS
Also announced at the AIDC AGM on the final day of the conference, four new appointments to the AIDC Board of Directors: Kelrick Martin, Head of Indigenous ABC; Paul Williams, Documentary Executive Screenwest; Bernadine Lim, Unscripted Commissioner SBS; and incoming Company Secretary Marco D'Angele, Partner at Marshalls Dent & Wilmoth, who replaces outgoing Secretary Clement Dunn, also of Marshalls Dent & Wilmoth.
AIDC's 2023 conference took place at ACMI, Melbourne, from 5-8 March 2023.
3 March 2023
AIDC 2023 Starts On Sunday
Read More