AIDC TEAM TIPS FOR YOUR MIFF DOCUMENTARY VIEWING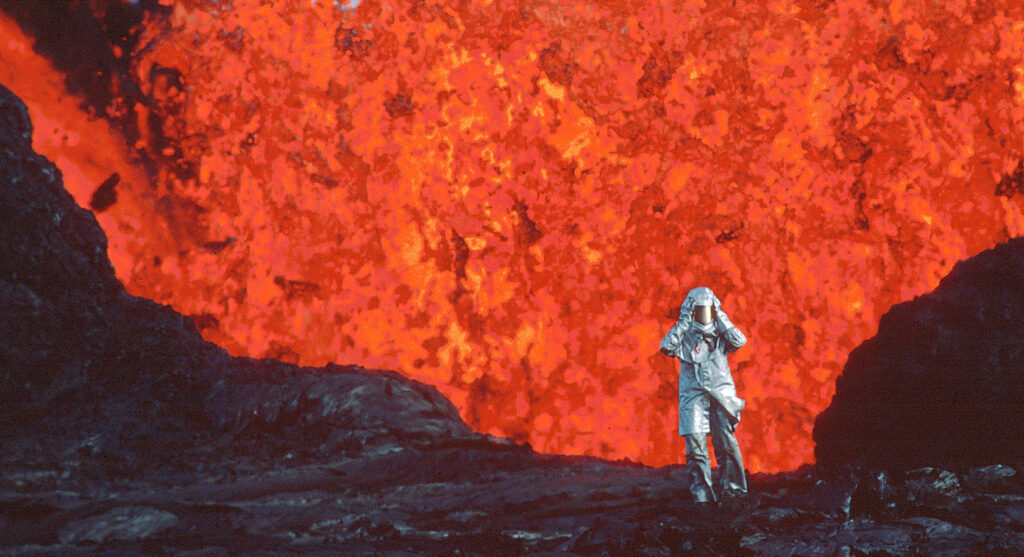 The 70th anniversary Melbourne International Film Festival (MIFF) program begins in cinemas next week, Thursday 4 August, with selected online screenings starting the following Thursday 11 August.  
The AIDC Team are keen as ever to dive into the documentary selection, and MIFF haven't made it easy by programming over a 100 titles!
Perhaps you're keen to see hotly tipped international festival sensations like 'volcano romance' Fire of Love, the gripping Navalny, or the heart-wrenching childhood-in-wartime doc A House Made of Splinters. 
Or maybe music docs are more your speed, like Nothing Compares, documenting Sinead O'Connor's tumultuous career, Moonage Daydream, a kaleidoscopic look at David Bowie's extraordinary life, or Rewind & Play, exploring a troubled French TV performance by jazz legend Thelonius Monk in 1969. 
Not to mention must-see Australian documentaries like the MIFF-closing Clean, the inspiring, First Nations knowledge-informed response to Earth's many crises, The Endangered Generation?, Maya Newell's follow-up to Gayby Baby and In My Blood It Runs, The Dreamlife of Georgie Stone, and the hyper-intimate look at life with a neurodivergent family, Because We Have Each Other, by Sari Braithwaite ([CENSORED] MIFF 2018).
It might be (almost) impossible to see everything, but we're here to help you decide what to catch – ticket levels permitting – with our special list of AIDC Team selections.
FIRE OF LOVE
Sara Dosa's Fire of Love tells the ill-fated story of French volcanologists Katia and Maurice Krafft, who were as passionate about volcanoes as they were about each other (and whose relationship could be just as volatile). Narrated by Miranda July and edited by Erin Casper (2019 AIDC alumni), Fire of Love breathes new life into Katia and Maurice's 16mm archives documenting their adventurous spirit, geological discoveries and ground-breaking expeditions to the heart of volcanoes across the world. Miranda July's narration adds an extra layer of quirk and whimsy to the original footage of Maurice and Katia acting out mad-scientist scenes against the backdrop of an active volcano in Cousteau-style beanies or homemade space suits. At times Fire of Love feels born out of a love affair between a Wes Anderson film and a '60s French New Wave classic, and having wowed audiences at Sundance and Hot Docs it is guaranteed to warm any cold heart attending MIFF in the midst of a Melbourne winter!
Natasha Gadd, AIDC CEO / Creative Director 
MEET ME IN THE BATHROOM
Selecting a favourite doc to watch at MIFF is like pulling teeth with such an extraordinary program of films on offer. But it would be remiss of me not to choose Meet Me in the Bathroom as my most anticipated doc this MIFF. Who better than Will Lovelace and Dylan Southern (Shut Up and Play the Hits) to bring back the glory days of The Strokes, The Yeah Yeah Yeahs, Interpol, LCD Soundsystem and many more indie darlings. A highly influential era musically on me personally and I'm sure for many others. Bring on the Indie Sleaze!
Lauren Valmadre, Industry Manager 
ENNIO
I grew up in Canberra. There was no film festival there and I didn't go to any festival until I moved to Melbourne in the mid/late '90s. The first session of MIFF that I ever saw was Once Upon a Time in America at the Forum. It was a restored 35mm print and it screened with an intermission. I'd studied the film, its director and the composer at uni back in Canberra, but seeing, hearing and feeling it there and then was such a profound experience, and it has stayed with me ever since. At the end of the film I walked up to the Collins St tram and then a flood of tears hit me. This is what cinema can be. And why it matters. But it is nothing without Ennio's music.
Alex Castro, General Manager
MOONAGE DAYDREAM
There is so much to be excited about in the MIFF program this year, and though I might be biased, the documentary strand feels particularly exciting! The first film I booked is Moonage Daydream, the new David Bowie documentary from Director Brett Morgen, and I am so ready to be immersed in the bright lights of Bowie. Aside from focusing on his incredible music and stage personas, it seems you get a true insight into Bowie's mind – his good energy and wisdom. Bowie is one of those icons that feels more accessible and open than others, and I love the opening line of the trailer: "Questions have arisen as such, as who is he, what is he, where did he come from, is he a creature of a foreign power, is he a creep, is he dangerous, is he smart, dumb, nice to his parents, real, put on, crazy, sane, man, woman, robot? What is this?'" Because, really, wasn't he all of the above? And, can't we all be all of the above?
Samantha Jackson, Project Manager
A MARBLE TRAVELOGUE
I enjoy documentaries that take everyday life events or subjects that wouldn't ordinarily seem to have screen appeal and make something moving, insightful or surprising out of them. Chinese-Muslim director Sean Wang's somewhat unexpected follow-up to Lady of the Harbour (AIDC FACTory alumni 2017), about a Chinese émigré who attempts to help refugees in her adopted home of Greece, focuses on a very hard subject – rock hard, in fact. A Marble Travelogue makes the favourite stone of the wealthy its primary motif, following huge slabs of Greek marble as they are unearthed, transported across the world, and reshaped, repurposed and reinterpreted as ostentatious signifiers of prosperity or knick-knack souvenirs of ancient cultural history. Wang has an eye for unusual people in unusual circumstances, a wry sense of humour, and a willingness to explore contrasting characters and situations in the margins of globalisation. Coupled with a cinematic sense of scale befitting the colossal stone at the film's centre, A Marble Travelogue looks like an intriguingly oblique way to tell a story about modern global commerce and the people caught up in the fringes of it.      
Chris Harms, Marketing & Communications Manager
The 70th Melbourne International Film Festival runs 4 – 21 August 2022 in cinemas and 11 – 28 August 2022 online. miff.com.au
27 July 2022
AIDC x SAFC Industry Talks: Autlook Film Sales
Read More
3 August 2022
REGIONALITY CAIRNS FULL PROGRAM REVEALED
Read More