AIDC 2021 UNVEILS FULL ONLINE CONFERENCE PROGRAM
FEATURING ALEX GIBNEY & LISA NISHIMURA KEYNOTES, OVER 40 CONFERENCE SESSIONS & FOCUS ON TRUTH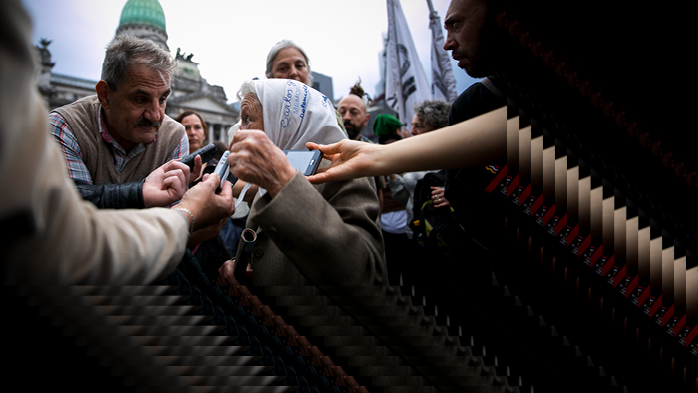 The Australian International Documentary Conference (AIDC) today announces the full conference program for its 2021 online event with over 40 sessions, more than 70 speakers and 90-plus decision makers creating an unmissable opportunity to access, learn from and do business with some of the world's most prolific figures across the documentary and factual landscape. To explore the full program, visit the Sessions page. 
Featuring keynotes from documentary heavy-weight Alex Gibney (Taxi To the Dark Side, Enron: The Smartest Guys in the Room, Totally Under Control) and Netflix's VP of Documentary Features, Lisa Nishimura (Tiger King, Making A Murderer, 13th, Crip Camp), AIDC 2021 will also present an impressive line-up of guest speakers working at the forefront of the screen and digital media industries. 
The overarching theme – Moment of Truth – will be a focus of the conference and its sessions, which runs virtually from Sunday 28 February – Wednesday 3 March 2021. 
Alice Burgin, CEO/Conference Director, AIDC said, "AIDC recognises that we live in an urgent and tumultuous time. It is a time that demands we stand together as an industry and make some decisions for our future. Our theme, Moment of Truth, has allowed us to design a program around this concept, and asks our delegates to consider how action, sustainability, resistance and truth can inform the world we want to live in, and the world we want to leave behind. If there was ever a year to attend AIDC and be part of this big conversation, it's 2021!"
Caroline Pitcher, CEO, Film Victoria said: "AIDC is seizing this unique moment in time to shape the future of factual storytelling and bring together some of the most prominent movers and shakers in the global documentary space. As principal partner, Film Victoria is excited to present award-winning documentarian Alex Gibney in conversation with our own Alicia Brown for just one of the many inspiring discussions that will take place during AIDC 2021." 
ALEX GIBNEY SESSION
Secret Surprise Films, Happy Endings and Finding Your Pain: Alex Gibney Discusses Motivations in Storytelling 
Academy award winning filmmaker Alex Gibney discusses the power and importance of truth in documentary filmmaking in a spotlight on producing hosted by Film Victoria's Manager of Production Investment, Alicia Brown . Gibney has been an influential voice in the most current of events, with a keen eye for exposing the urgent truths in the world and holding those who suppress them accountable, from his HBO series Agents of Chaos to his most recent film Totally Under Control. This session is presented by Film Victoria.
LISA NISHIMURA SESSION
Lisa Nishimura: Breaking the Mould
As a name behind some of the biggest documentary projects of the last ten years, Netflix Vice President of Documentary Features and Independent Films, Lisa Nishimura has helped shape the global space of documentary. In Lisa Nishimura: Breaking the Mould, Lisa will appear in conversation with Que Minh Luu (Netflix), Director of Local Originals in Australia, to share her insights, through selected case studies, on some of her most successful productions from Making a Murderer, to Tiger King, 13th and Crip Camp. This exclusive session promises to be as enlightening as it is entertaining. This session is presented by Netflix.
INTERNATIONAL SPEAKERS GALORE
The decision to take AIDC online in 2021 has allowed a greater number of international special guests to participate than ever before. This year's global line-up includes Academy Award-nominated David France, director of Welcome to Chechnya, in Telling Activist Stories with David France; Kirsten Johnson, director of Dick Johnson is Dead, in Kirsten Johnson and the Art of Innovation (presented by ACMI); Fatima Salaria, managing director of Fremantle's new unscripted television company, Naked, in Innovating the Factual Landscape: In Conversation with Fatima Salaria; Tabitha Jackson, Sundance Film Festival director and two-time Emmy winning documentary creator Lynette Wallworth in The Future of Documentary (presented by Film Victoria); Artistic Director and Co-Founder of the Co-Creation Studio at MIT Open Documentary Lab, Katerina Cizek -a two-time Emmy and Peabody-winning documentarian – in Co-Creative Storytelling with Katarina Cizek; and Studio Lambert's Creative Director, Tim Harcourt (Gogglebox, The Circle), in From Genesis to Blockbuster: Developing Ideas That Travel with Tim Harcourt presented by Screen Queensland plus many more.
SESSION HIGHLIGHTS 
In addition to AIDC's international guest sessions, the program includes over 40 sessions covering a range of topics from activism and innovation to producing, craft, business, sustainability and impact. Some of the in-depth sessions across the 4-day conference include: Lessons from the Deep: Success Stories, a case-study of human's evolving relationship with the ocean and the relationship between innovations in natural history storytelling and conservation. Presented by Screen NSW and featuring My Octopus Teacher and Swimming with Sharks: the Valerie Taylor Story, which premiered recently at Sundance, this session includes Ellen Windemuth (WaterBear) and Bettina Dalton plus Dr Chadden Hunter as the host. 
With a focus on addressing sustainability in the Australian documentary and factual industries, AIDC 2021 will also include these key sessions: 
Island in the Stream: The Future of Australian Content on the Streamers, where the biggest names in streaming will reveal current trends in factual and documentary content with insights from industry experts including Belisa Baliban (Hulu) and Tyler Bern (Amazon); Presented by Screenwest.
Setting the Scene for a Greener Screen Industry – a session focusing on the pressing issue of sustainable production, exploring practical ways the Australian screen industry can reduce environmental impact with speakers Tanzy Owen and Anna Kaplan. Presented by Film Victoria.
Survival!: Navigating the Jungle of Genres, Networks and Platforms – Karina Holden from Northern Pictures will give some of the fittest in the business an emergency toolkit to help unpack their survival strategies, presenting alongside Andrew Farrell (CJZ), Sarah Thornton (Network Ten) and Dan Brown (Joined Up); 
Making Lemonade: A Guide to Surviving the Media Reforms – in this plenary session, moderator Kingston Anderson will challenge four industry leaders – each representing a sector of the documentary community – to gaze into a crystal ball and predict what the future will look like through the lens of recent government policy updates. 
Other highlights of the program include: the live-development game-show extraordinaire One Pitched Every Minute; a deep dive into the archives, activism and representation in History is in the Taking: Creating New Narratives through the Archives (presented by Getty Images); and a forward-thinking exploration of how platforms such as Facebook Watch and TikTok are enabling more diverse nonfiction voices, structures and playfulness in Short Play: Unleashing the Creative Potential of Alternative Platforms (presented by Finch Entertainment). These and many more sessions sit alongside themed lunchtime meet-ups for networking and the informal yet ever-informative Upskill sessions.
AIDC MARKETPLACE
In addition to its expansive program of sessions, AIDC will also continue its tradition as the must-attend marketplace for documentary and factual projects, with the largest contingent of decision makers in AIDC's history taking part in the 2021 event. More than 90 decision makers from around the world will be looking for new stories to tell, including representatives from Amazon, Hulu, Netflix, BBC, NHK, ABC, SBS, ESPN, Channel 4, PBS, Al Jazeera English, A24, CBC, Sundance Institute, Dogwoof, Cat&Docs, Madman Entertainment, Outlook, ARTE G.E.I.E, ACAST, DR, Doc Society, Audible,  Spotify, Tribeca Film Festival, Hot Docs and more.
AIDC will run 28 February – 3 March 2021. To register for the conference, visit the Passes page.
20 January 2021
15 PROJECTS ANNOUNCED FOR THE FACTORY
Read More
3 February 2021
AIDC ANNOUNCES PUBLIC SCREENINGS & TALKS INCLUDING INTERNATIONAL GUESTS
Read More