AN EXPLOSION OF COLLECTIVE ENERGY: AIDC WRAPS FOR 2020
MORE THAN 780 DELEGATES MARK FIVE CONSECUTIVE YEARS OF GROWTH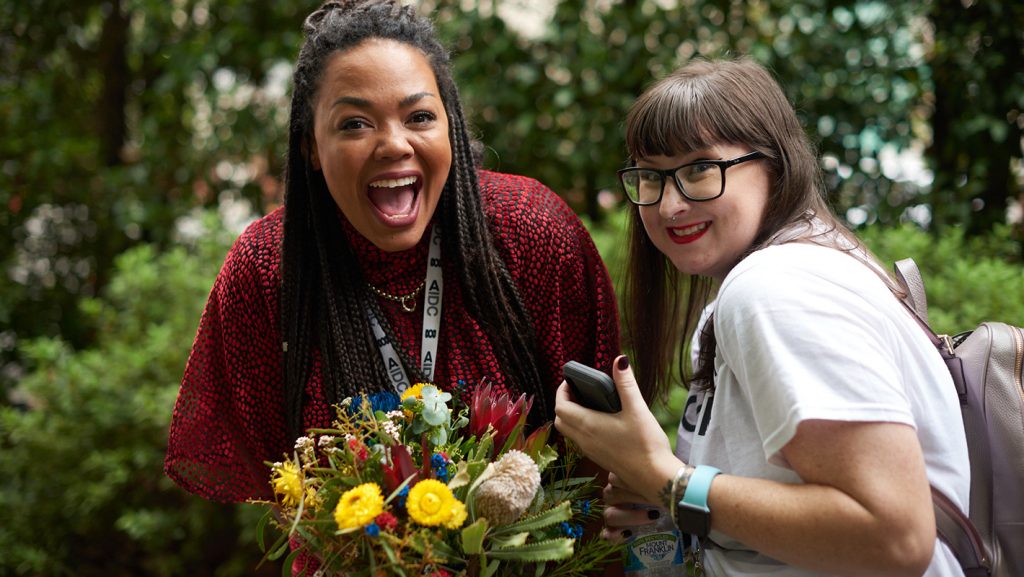 Reflecting the resilience of the sector and a willingness to engage with new collaborators and new ideas, AIDC 2020 welcomed a record 789 registered documentary and factual industry delegates for four days of knowledge exchange, networking and deal-making. 
The event has witnessed a 91% increase in attendance in its last five years since moving from Adelaide in 2015 to Melbourne for 2016, with this year's temporary relocation to State Library Victoria proving to be a popular choice with new and returning delegates.
"A COHESIVE AND VIBRANT COMMUNITY"
"The impressive display of projects and knowledge across the marketplace and conference program at this year's AIDC reinforced that, despite all the challenges,  there remains a strong and healthy documentary and factual industry in Australia," said Alice Burgin, AIDC CEO & Conference Director.
"The AIDC is grateful to our 55 partners, 80 volunteers, 82 international guests and hundreds of talented creatives who made this year's event so special. It is an absolute privilege to be able to be a part of such a cohesive and vibrant community."
Ms. Burgin also noted that AIDC 2020 unlocked more than $500,000 in project and professional development funding across its marketplace, pitching and industry development initiatives.
CO-OPERATION, COLLABORATION AND CO-PRODUCTION
Inspired by the 2020 theme of 'Collective Intelligence', standout sessions at AIDC 2020 included Masters: Producing with Gordon Quinn, the co-founder and artistic director of the Chicago-based Kartemquin Films (A Good Man, Hoop Dreams, Minding the Gap), a non-profit production company exemplifying the longevity of collaborative documentary. 
Delegates also received a peek behind the curtain of collaboration in Crafting the Edit: The Final Quarter with director Ian Darling and editor Sally Fryer, while Pitch at First Sight – which saw leading production companies like Media Stockade and CJZ come up with ideas on the spot for the judgment of Nine Network's Adrian Swift and ABC's Josie Mason-Campbell – provided a fast and fun look at developing factual formats.  
The Upskill series, featuring Art & New Frontiers with Bridget Ikin (Felix Films) and Robin McNicholas (Marshmallow Laser Feast), Character with S. Leo Chiang (Our Time Machine) and Storytelling with Jennifer Peedom (Sherpa, Mountain), provided deep dives into character, writing and new spaces for documentary exhibition, while Niche to Broad, Big to Lean: Concepts of Scale in Factual, with speakers from Endemol Shine, ITV Studios and Beach House Pictures, gave real world insight into the craft of working together on factual productions. 
Also popular with AIDC attendees were opportunities to hear from local broadcasters about what's on trend (including Revealing All: SBS & NITV Talk Strategy & Opportunity, and ABC's Real World Impact: TV with Social Purpose), and both Who's Who sessions – Pt 1: Broadcasters, Platforms, Festivals and Pt 2: Sales & Distribution – which allowed delegates to identify the decision makers in attendance and also get a sense of what they might be looking for.
Masters: Producing with Gordon Quinn
UPSKILL: WRITING DOCUMENTARY, SHAPING STORY WITH JENNIFER PEEDOM
A THRIVING MARKETPLACE
AIDC's reconfigured international pitching event, FACTory 2020, saw 19 projects involving 15 different countries of production pitch to 35 decision makers across categories including Arts & Culture, Society & Politics, Science & Natural History, New Talent, and Rough Cuts. 
AIDC's one-on-one pitch meeting market Cut to the Chase curated 300 meetings between producers and decision makers.
Beyond Cut to the Chase, there were 36 new project pitches across the Meet Your Maker: XR Pitch; Pitch Australiana, presented by VICE and Screen Australia; the Australia Uncovered Pitch, presented by SBS and DAF; the Reel Smart Academic Pitch presented by La Trobe University, the Sound It Out pitch, presented by Audible; and the Raw Data, Real Stories pitch presented by the Google News Initiative.
OLI HARBOTTLE (DOGWOOF) AT FACTORY 2020
GROWING DIVERSITY
AIDC 2020 continued to reflect a growing diversity in the program and among delegates.
Thanks to philanthropic contributions from 22 production companies to AIDC's Leading Lights Fund, 37 emerging, Indigenous and culturally and linguistically diverse practitioners were introduced to the sector at AIDC 2020. 
57% of registered delegates were women, and there were 55 participants in the Indigenous Creators Program, designed to provide targeted information and skills around pitching, storytelling, funding, legal considerations and distribution.
A FOCUS ON INNOVATION
AIDC 2020 also retained a strong focus on innovation in the documentary and factual industry with the return of the Raw Data, Real Stories data journalism pitch for $40,000 of project funding, presented by the Google News Initiative; the $10,500 Sound it Out audio documentary pitch, presented by Audible, and the Reel Smart Academic Pitch, presented by La Trobe University. 
Sessions about the potential of immersive documentary work (Masters: Multi-Sensory Perspectives with Marshmallow Laser Feast's Robin McNicholas), the scope that data opens up for storytelling (Masters: Finding Stories in Internet Data by Buzzfeed's Lam Thuy Vo), and the ways in which story, technology and community can intersect and create possibilities for documentary (Bold New Futures with Lynette Wallworth), also ensured that delegates were well-catered with food for thought about the evolution of the industry.
BOLD NEW FUTURES, WITH LYNETTE WALLWORTH
SCREENINGS & TALKS
Members of the public who did not register for AIDC 2020 were also given the opportunity to engage with the program via public screenings & talks. 
These included screenings at The Capitol of feature documentary Our Time Machine with a Q&A with director and AIDC guest S. Leo Chiang, and the Australian premiere screening of Feras Fayyad's Academy Award®-nominated The Cave, plus a capacity panel session at The Wheeler Centre centred around 2019 Raw Data, Real Stories winner The Invisible Crime.
PRIZES AND AWARDS
AIDC 2020 featured nine awards and over half a million dollars in funding and development opportunities for nonfiction screen practitioners. 
Thanks to our valued industry and event partners, these awards and initiatives allow AIDC to act as a genuine platform for the initiation and facilitation of new documentary and factual work. 
Meet some of the winners and recipients below…
FACTORY 2020 PRIZES
DOC EDGE NZ PRIZE
Presented by Doc Edge NZ. The opportunity to attend and pitch at New Zealand's Doc Edge festival and market.
Festival & Forum pass + invitation to pitch at Doc Edge NZ Pitch
The Fight Together (Working Title) (Sam Griffin, Larissa Behrendt AO)
Complimentary Festival & Forum pass to Doc Edge NZ
Laura's Choice (Sam Lara, Cathy Henkel)
---
DOK LEIPZIG PRIZE
Presented by Dok Leipzig. The opportunity for one pitch team to attend Dok Leipzig 2020. 
The Vinyl Records: Destroy Phallus Oppression (Em Baker, Juhi Sharma, Samantha Dinning, Philippa Campey)
---
THE POST LOUNGE PRIZE
Presented by The Post Lounge. A complete opening titles package worth $5000 by full-service picture and sound post-studio The Post Lounge. 
Lighten My Load (Ned Speldewinde, Claudia Nankervis)
DOC EDGE NZ CEO ALEX LEE (L) WITH THE FIGHT TOGETHER'S SAM GRIFFIN (R)
AIDC'S NATASHA GADD (L) AND LAURA'S CHOICE DIRECTOR SAM LARA (R)
OTHER PRIZES & AWARDS
THE WITNESS PITCH
Presented by Al Jazeera English. Three $100,000 commissions for an early career practitioner to develop a project for Al Jazeera's Witness strand of short documentaries. 
At the Coalface (Anu Hasbold)
This Is Reality (Chris Phillips)
Give Us Green, Darling! (Caro Macdonald)
---
AUSTRALIA UNCOVERED PITCH
Presented by SBS and Documentary Australia Foundation. The chance to share in development and production funds for single documentaries for new SBS strand Australia Uncovered.
Full Commission
The Bowraville Murders (working title) (Allan Clarke, Dan Goldberg, Stefan Moore)
Development Funding
Strong Female Lead (Tosca Looby, Karina Holden)
Why Do People Hate Jews (John Safran, Laura Waters & Mike Cowap)
Documentary Australia Foundation Development Funding
Life After Juvie (Charby Ibrahim, Britt Arthur, Mish Armstrong)
---
RAW DATA, REAL STORIES PITCH
Presented by the Google News Initiative. $40,000 in project funds to develop a data journalism project. 
Hooked: The numbers behind Australia's gambling obsession (Inga Ting, ABC News)
---
HOT DOCS PRIZE
Two $2,500 travel prizes to Toronto for Hot Docs 2020, provided by the Consulate General of Canada, plus two Conference & Networking passes to attend Hot Docs 2020, presented by Hot Docs.
Laura's Choice (Sam Lara, Cathy Henkel)
Dark Water: Battle on the Franklin (Kasimir Burgess, Chris Kamen, Oliver Cassidy, Annie Venables)
---
ACCESS PROGRAM PRIZES
Presented by Beach House Pictures. Two fully-paid internships with Singapore-based production company Beach House Pictures. 
Lauren Beck
Barbara Taylor
Supplied by Sheffield Doc/Fest. A festival and networking pass for Sheffield Doc/Fest 2020
Travis Beard
---
STANLEY HAWES AWARD
Presented by AIDC. A $5,000 Award for Outstanding Contribution to Documentary in Australia. 
Janine Hosking
[L-R] CHRIS PHILLIPS, CARO MACDONALD, ANU HASBOLD
ACCESS PROGRAM 2020 PARTICIPANTS WITH BEACH HOUSE PICTURES
[L-R] JOHN SAFRAN, KARINA HOLDEN & TOSCA LOOBY
AIDC BOARD CHANGES
AIDC also announced Board Changes following the AGM which was held during the Conference.
After six years of loyal service, Fiona Gilroy, Content Sales & Acquisitions Director for Flame Distribution, departed her role as AIDC Co-Chair. Kingston Anderson, former CEO of the Australian Directors Guild also finished his six-year tenure on the AIDC board.
The new Board appointees voted in at the AGM are Andrew Arbuthnot, Investment/Development Manager, Documentary, Screen Australia; Hollie Fifer, Independent Director; and Paul Wiegard, Co-Founder and CEO of Madman Entertainment.
MORE GALLERIES AND VIDEOS
You can find more highlights and stories from AIDC 2020 on our Facebook page, Instagram and Twitter.
In the coming weeks we'll also be releasing a series of special short video interviews with some of AIDC 2020's most popular speakers and a few new faces. You can find the first AIDC Insights video featuring Jen Peedom online now.
And don't forget the AIDC 2020 podcast series, featuring audio recordings of selected AIDC 2020 sessions. Keep an eye on the AIDC eNews to find out when they'll be released.
AIDC INSIGHTS: JEN PEEDOM
MORE TO COME FROM AIDC
Although AIDC 2020 is over, the Australian International Documentary Conference continues operations year-round and will be seeking new donors for the Leading Lights Fund in the coming months for 2021
Keep watch on the AIDC eNews for news and announcements about AIDC 2020 session podcasts, video interviews with delegates, and the post-conference survey.
We would also like to thank our many Partners, without whom the event would not have been possible, and particularly Film Victoria and ACMI who announced a new round of triennial funding at the conference, securing AIDC in Melbourne until the end of 2023. 
We hope all those who attended AIDC 2020 had a fruitful and productive conference, and we look forward to welcoming you again next year.
Main photo: Barbara Taylor, ACCESS program winner, and friend. All photos by Nicola Bernardi.
2 March 2020
AIDC TO CALL MELBOURNE HOME UNTIL 2023
Read More
21 March 2020
A MESSAGE ON GORDON QUINN
Read More