AIDC TO CALL MELBOURNE HOME UNTIL 2023
FILM VICTORIA AND ACMI JOINTLY ANNOUNCE THAT AIDC WILL REMAIN IN MELBOURNE FOR THE NEXT THREE YEARS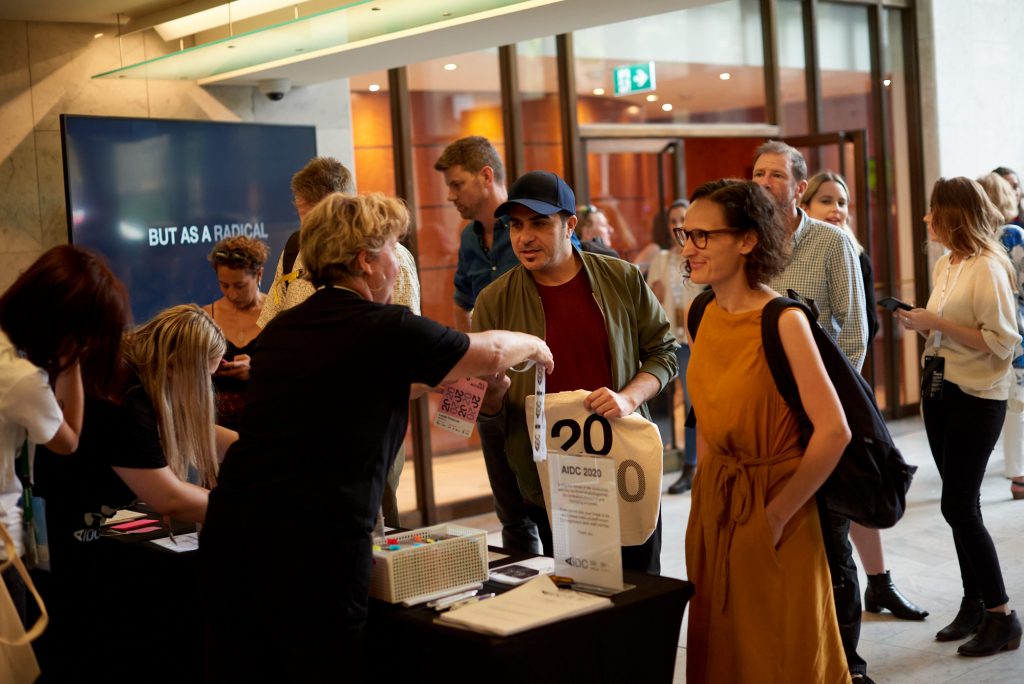 Leading documentary creators will continue to come together in Melbourne to share their ideas and explore new horizons, with the city to host the annual Australian International Documentary Conference (AIDC) for a further three years.
At the opening session of the 2020 conference today, Film Victoria CEO Caroline Pitcher and Australian Centre for the Moving Image (ACMI) Director and CEO Katrina Sedgwick jointly announced that AIDC will remain in Melbourne until 2023, returning to the reimagined ACMI from next year.
Australia's premier annual event for documentary, factual and unscripted screen content, AIDC welcomes more than 700 Australian and international delegates working across film, television, online and VR, bringing them together to promote business, inspire creativity and ignite social change.
This year, over four days at the newly refurbished State Library of Victoria, creators, purveyors and viewers of nonfiction screen content will hear from renowned guest speakers and participate in masterclasses, pitching opportunities and panel discussions, with the goal of connecting with new partners and markets and finding new ways of doing business.
Minister for Creative Industries Martin Foley MP said: "Victoria's screen sector plays a key role in our state's $31 billion creative economy – industry events like AIDC support its growth and success. Securing AIDC sets the scene for new creative and business opportunities, new connections and more content to inspire audiences."
AIDC CEO and Conference Director Alice Burgin said: "Securing Victoria as the home of the AIDC for three more years is a triumph for the documentary and factual sector nationally. This generous support from Film Victoria and ACMI will allow the AIDC to continue to develop its vision of becoming the premier event of its kind in the region, and one dedicated to ensuring a sustainable Australian industry whose stories can be elevated to the world stage."
Film Victoria CEO Caroline Pitcher said: "We're thrilled to be continuing as principal partner of AIDC and to see the vital impact the conference has on the screen industry year after year. It's due to the immense talent and passion of Australian factual content creators that our most important global and local stories reach and inspire audiences around the world, and this vibrant conference is one of the places where it all begins."
ACMI Director and CEO Katrina Sedgwick said: "As the national museum of the moving image, ACMI is proud to be major partner and the home of AIDC for another three years. Our renewed museum, open from mid 2020, will celebrate and showcase factual content year round through our exhibitions, screenings and public programs, and we look forward to continuing our collaboration with Film Victoria and the AIDC to ensure this vital sector in our industry is supported to flourish and innovate now and into the future."
AIDC 2020 is currently underway at State Library Victoria until Wednesday 4 March 2020. www.aidc.com.au
28 February 2020
INTERNATIONAL GUEST ANNOUNCEMENT
Read More
11 March 2020
AN EXPLOSION OF COLLECTIVE ENERGY: AIDC WRAPS FOR 2020
Read More