AIDC & ACMI CO-PRESENT AUSTRALIAN PREMIERE OF OSCAR-NOMINATED 'THE CAVE' IN PUBLIC SCREENINGS & TALKS PROGRAM
FEATURING Q&AS WITH FERAS FAYYAD, AMY J. BERG, S. LEO CHIANG & THE TEAM BEHIND 'THE INVISIBLE CRIME'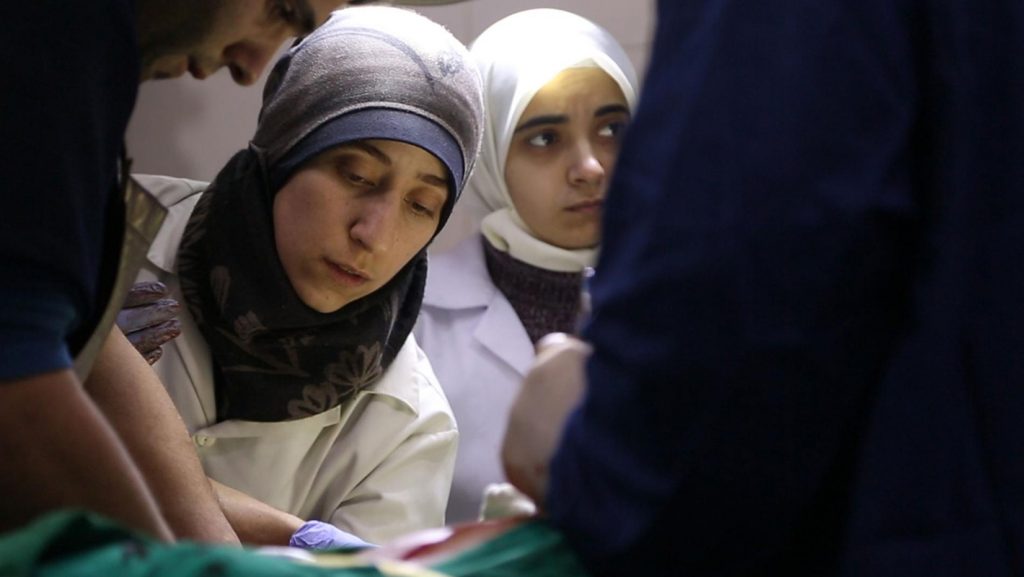 AIDC and Presenting Partner the Australian Centre for the Moving Image (ACMI) have announced a unique public program of screenings and talks to coincide with AIDC 2020. 
AIDC will complement its industry program with a line-up of powerful films and insightful conversations aimed at celebrating the directorial work of this year's talented international guest speakers.
The four public events have been made possible by three new co-presenting organisations – AsiaTOPA, The Wheeler Centre and The Age, as well as AIDC's Presenting Partner, ACMI.
AUSTRALIAN PREMIERE OF 'THE CAVE' WITH FERAS FAYYAD
Most notably, AIDC and ACMI will co-present the Australian premiere of The Cave, followed by a Q&A with acclaimed Syrian director Feras Fayyad.
The extraordinary film, currently in contention for the Best Documentary Oscar at the 2020 Academy Awards®, follows a female-led medical team risking their lives to provide medical care to the besieged local population in Ghouta, Syria.
Mr Fayyad is attending AIDC as a guest speaker, and will join ACMI's Director of Film Kristy Matheson after the screening for a conversation about his work and an audience Q&A.
6.30pm, Monday 2 March, The Capitol
'THE CASE AGAINST ADNAN SYED' WITH AMY J. BERG
In addition, multi-award-winning director Amy J. Berg and Australian film composer and music supervisor Frally Hynes will discuss their collaborative partnership on the Emmy-nominated HBO series The Case Against Adnan Syed, exploring the murder case publicised by the globally successful Serial podcast.
Co-presented with ACMI, this event will include a special excerpt from the series followed by an exploration into the creative relationship between director and composer on one of the USA's most controversial true crime series.
6.30PM, Tuesday 3 March, The Capitol
'OUR TIME MACHINE' WITH S. LEO CHIANG
AIDC and ACMI are also partnering with the triennial arts festival Asia TOPA, as well as new partner The Wheeler Centre, to screen Our Time Machine, directed by rising star S. Leo Chiang.
A moving exploration of creativity, family and memory, the film follows the celebrated Chinese artist, Maleonn, and his attempt to stage an ambitious work of autobiographical puppet theatre with the input of his ailing father.
Winner of the coveted Best Cinematography award at Tribeca 2019, the film has also been nominated for multiple international awards.
As a guest of AIDC, Mr Chiang will participate in an extended Q&A with Beverly Wang, host of ABC Radio National It's Not a Race.
6PM, Sunday 1 March, The Capitol
'THE INVISIBLE CRIME' PANEL
Finally, AIDC is excited to be working alongside the Wheeler Centre and The Age, and with support from the Google News Initiative, to present The Invisible Crime, a hard-hitting conversation focused on the under-reporting and barriers towards prosecution of sexual assault in Australia.
Inspired by the award-winning multimedia interactive documentary of the same name, created by investigative and data journalists from The Age and the Sydney Morning Herald, the panel will be hosted by Age journalist Nicole Precel,  solicitor and writer Greg Barns, lawyer Rena Ou Yang (co-founder of Empowered Together) and public prosecutor Katrina Marson.
The conversation will take a hard look at the concept of consent, including its varying legal definitions across the country and ways for it to be better taught and defined in everyday lives.
The Invisible Crime multimedia project was the winner of the AIDC and Google News Initiative's inaugural Raw Data, Real Stories data storytelling pitch in 2019.
The project was awarded $45,000 in project funding, and the full story can be seen at theage.com.au/invisible-crime
6.15PM Tuesday 3 March, The Wheeler Centre
"CONTENT IS MADE FOR AUDIENCES AND NEEDS TO BE SEEN"
AIDC CEO & Conference Director Alice Burgin said, "While AIDC prides itself on being a central platform for powerful documentary and factual content to be born, content is made for audiences, and needs to be seen, unpicked, dissected and discussed.
"With so many incredibly talented filmmakers in attendance this year, we saw an opportunity to offer a tailored program that was filled with strong and diverse voices, unique perspectives and urgent issues that reach far beyond the documentary sector.
"We want to thank all the organisations who are working with us to make each one for these incredible events happen, with a special mention to ACMI for their continuing support."
"FEW CINEMATIC FORMS OFFER THE IMMEDIACY AND ACCESS OF DOCUMENTARY"
ACMI Director of Film Kristy Matheson said, "ACMI serves to inspire curiosity, provoke debate and enable deeper engagement with the moving image.
"Few cinematic forms offer the immediacy and access of Documentary cinema and in 2020, ACMI is proud to work with our colleagues at AIDC to present a public screening program that invites audiences to see the world together and hear from some of the biggest names in global documentary filmmaking."
29 January 2020
AIDC ANNOUNCES FULL 2020 PROGRAM
CELEBRATING COLLABORATION, CO-OPERATION & CO-PRODUCTION
Read More
5 February 2020
PITCH A PROJECT AT AIDC FOR A CHANCE TO SECURE $2,500 IN TRAVEL FUNDING TO CANADA'S HOT DOCS 2020
Read More