THE WORKS OF JOHN MOORE: A TRIBUTE
IN MEMORY OF JOHN MOORE, A SELECTION OF HIS FILMS TO STREAM AT HOME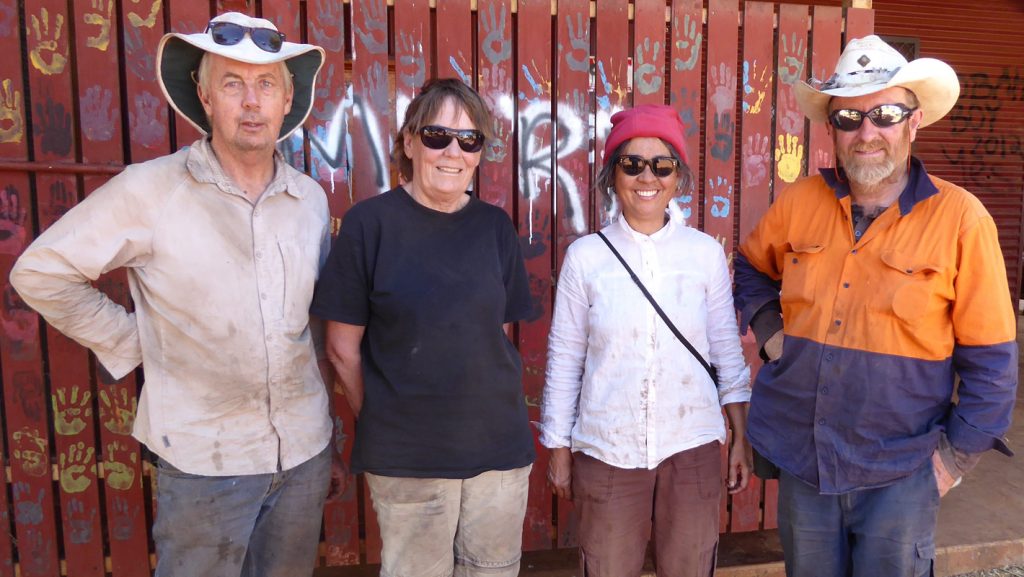 We are saddened to learn of the passing of veteran Melburnian documentary filmmaker and former AIDC Board member John Moore. 
A director, producer and writer, he was a skilled and measured man whose work influenced filmmakers not only of his own generation but those that have followed. 
A socially conscious filmmaker, he made a number of pioneering documentaries with a strong focus on Indigenous rights, social justice and a revisiting of Australian history. 
His contribution to the Australian documentary community will be very much missed. We extend our sympathies to his family, friends, and colleagues at Sensible Films.
John Moore, also pictured above with crew from Putuparri & the Rainmakers
As a tribute to his body of work, AIDC has curated a selection of John Moore films to stream at home. 
Whether you are an old friend, someone who wants to remember him, or discovering his work for the first time, here's your chance to celebrate the life of a documentary trailblazer.
Thomson of Arnhem Land
(dir. John Moore, 2001)
Shunned by the government and ostracised by white society, anthropologist Donald Thomson paid a high price for his progressive views on Aboriginal culture.  Winner of a number of prizes including the Audio Visual Prize for the NSW Premier's History Awards 2001 and Best Editing in a Documentary, Australian Film Institute 2000.
Get your public library card and stream this film via Kanopy here or buy it via NFSA here. 
In the Realm of the Hackers
(dir. Kevin Anderson, 2003)
The story of the Australian teenagers who hacked into some of the most secure computer networks in the world. With Julian Assange so prominent in the media right now, it's never been a better time to rewatch this classic. 
Predictably, this can be streamed for free online but a better way to watch is via Kanopy (with a library card) here or buy it via NFSA here.
Abortion, Corruption and Cops: The Bertram Wainer Story
(dir. John Moore, 2005)
In his fight to make abortion accessible, affordable and safe, Dr Bertram Wainer risked his life to uncover a web of corruption involving abortionists, politicians and police. Another timely piece, the film earned Moore a Best Director Nomination at the 2005 AFI Awards.
Watch via Kanopy here or buy it via the Sensible Films website here.
Monash: The Forgotten Anzac
(dir. Malcolm McDonald, 2008)
One of the most brilliant generals of World War I and an architect of ANZAC Day, Sir John Monash helped create the ANZAC legend by ensuring that the courage of his men was enshrined in Australian history. With a new narrative about the man about to be released, it's the perfect time to catch up on your Australian history. 
Watch via Kanopy here or buy it via the Sensible Films website here.
The Trial
(dir. Joan Robinson, 2009)
Since the horrific events of 9/11, governments across the world have been scrambling to introduce laws designed to pre-empt terrorist attacks. This is the inside story of the first big trial under Australia's new anti-terrorism laws. 
Stream or download on Vimeo here.
Putuparri and the Rainmakers
(dir. Nicole Ma, 2015)
An Indigenous man with a Western upbringing attempts to reconnect with his ancestral lands and traditional culture. Winner of the Cinefest Oz $100,000 prize for best film. 
Available on DocPlay here or via Beamafilm here (free with a valid library card.)
From Under the Rubble: A Story from Gaza
(dir. Anne Tsoulis, 2017)
A powerful civilian perspective on the violent clash between Palestinian and Israeli armed forces in Gaza.  In competition Asia Pacific Awards, nominated best documentary Adelaide Film festival, winner best documentary 22nd Arab Film Festival San Francisco.
Stream or download on Vimeo here.