CELEBRATING THE SUCCESS OF OUR FIRST HYBRID EVENT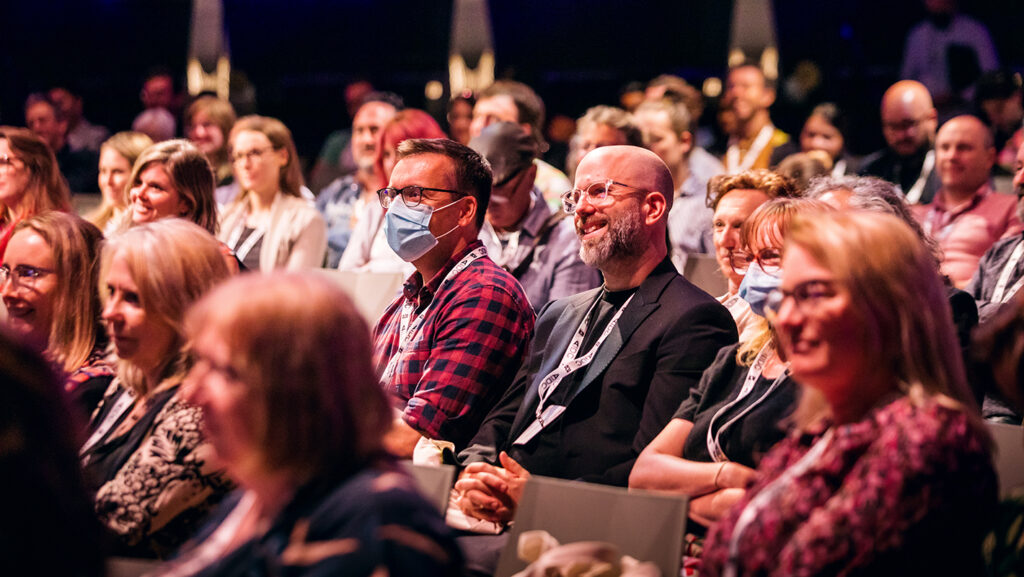 BEARING WITNESS TO A CHANGING WORLD
AIDC WRAPS FOR 2022 AFTER SUCCESSFULLY REUNITING THE AUSTRALIAN DOCUMENTARY & FACTUAL COMMUNITY  
We would like to extend a huge thank you to all of our collaborating partners and every individual who attended and participated in AIDC 2022! Held in-person at ACMI, Melbourne and simultaneously online from 6-9 March 2022, the main program officially ended last Friday with the completion of the 10-11 March online international marketplace.
Buoyed by a sense of resilience and a strong desire to reunite with colleagues and get back to business after two unusual years, AIDC 2022 welcomed 646 documentary and factual industry delegates to its first-ever hybrid in-person and online event. 
With 446 delegates choosing to attend in-person, AIDC's home venue of ACMI in Melbourne, alongside additional single-day venue the Forum Melbourne, played host to a vibrant and long-overdue gathering of documentary and factual creatives, commissioners, distributors, funding bodies, foundations and more. 
200 online delegates also joined from various corners of the globe, with participants representing 31 nationalities accessing the program of 43 spotlight and panel sessions and taking part in over 521 structured meetings. 
"AIDC 2022's first ever hybrid event heralded the reunion of the doc and factual community in a joyous celebration of craft, business and networking after two long and challenging years for our sector," said AIDC CEO & Creative Director, Natasha Gadd.
"It was such a pleasure to welcome practitioners and decision makers in-person and online from across the world, to celebrate and elevate nonfiction storytelling and facilitate new creative and business opportunities for our industry."
AIDC DELEGATES | Image Credit: Jess Middleton
HYBRID CONTROL ROOM | Image Credit: Jess Middleton
AIDC SESSION AUDIENCE | Image Credit: KELLI MORRIS
OPPORTUNITIES, INNOVATION, AND INSIGHT
AIDC 2022 launched with a VicScreen-presented Innovation Day on Sunday 6 March, featuring sessions and workshops dedicated to future visions, new technologies and innovative storytelling techniques. Highlights included The Digital Future of Documentaries with Co-Head of Documentary at TIME Studios, Loren Hammonds, and the inaugural Doc.Lab.Interact storytelling lab, led by award-winning UK studio Anagram.
Inspired by the 2022 theme of 'Bearing Witness', further session highlights at AIDC 2022 included The Art of Nonfiction (presented by VicScreen), an inspiring conversation with Jonas Poher Ramussen, director of the triple-Oscar®-nominated animated documentary Flee; and Hope vs. Reality (presented by VicScreen), featuring a revealing discussion with Ted Hope, producer of over 70 films and documentaries and former co-head of Amazon Studios. 
Delegates also benefited from the insights of the Netflix-presented In the Ring With the Way Brothers, in which doc-producing siblings Chapman and Maclain Way discussed their hit Netflix series Untold and Wild Wild Country; the ACMI-presented Agent For Change, featuring Burning and Chasing Asylum director Eva Orner in a frank discussion of what it takes to have a successful and impactful career in documentary; and Journalism vs. Documentary: Balancing Integrity with Creativity, which saw 2022 Academy Award®-nominee Sushmit Ghosh (Writing with Fire) speaking alongside Yaara Bou Melham (Unseen Skies) in a session presented by Judith Neilson Institute.
Other sessions well-attended by AIDC delegates included opportunities to hear from local broadcasters about what's on trend (including Pushing Boundaries with SBS & NITV, Exploring New Horizons: How the ABC is Going Big with Natural History, and Making History: Reimagining the Arts and History at the ABC), from Screen Australia about the state of the industry (Screen Australia: New Voices, New Screens), and from Indigenous producers about consistently constructive ways of working together (Collaboration vs Consultation: Moving Towards Better Practice in First Nations Filmmaking, and In Conversation with Blackfella Films: Darren Dale & Jacob Hickey). 
Factual series, streaming content, and philanthropic funding were also popular topics, with sessions on children's factual (Stepping Into Little Shoes: Creating Factual Programming for Younger Audiences), factual formats (Striking Gold: Adventurous Ob-Doc Series and Formats, Social Experiments – And How to Conduct Them – In Factual), and new players in the doc and factual space (including Introducing: Stan Originals and Streamlined!: Meet the Nonfiction Streamers) and funding space (Introducing: Shark Island Foundation) finding big audiences.
The Digital Future of Documentaries | Image Credit: Jess Middleton
Hope vs. Reality | Image Credit: Jess Middleton
Screen Australia: New Voices, New Screens | Image Credit: Jess Middleton
Streamlined | Image Credit: Jess Middleton
A THRIVING INTERNATIONAL MARKETPLACE
The VicScreen-presented FACTory, AIDC's international pitching showcase, stewarded for the sixth time by departing AIDC Industry Manager Danielle McCarthy, saw 13 projects with teams representing 11 nations pitch to 21 in-person and online decision makers across Central Showcase, New Talent Showcase, and Rough Cut Showcase categories. 
Projects to secure FACTory pitch prizes in the form of international marketplace access included Our Hoolocks (Sunny Side of the Doc Prize, France), Concrete Land (Sheffield Doc/Fest Prize, UK), Guardians of the River (Hot Docs Prize, Canada), and ​​The Last Daughter, Solastalgia: Journeys Through A Scarred Landscape, and Campesinos (each securing a Doc Edge Prize, New Zealand).  
AIDC's one-on-one pitch meeting market Cut to the Chase also curated a record 521 meetings between producers and decision makers for 104 documentary and factual projects, highlighting the enhanced access to international executives as a result of the hybrid delivery model. Cut to the Chase included three of AIDC 2022's partnered pitches, with 47 projects taking part across The Post Lounge Doc Series Pitch, the DocPlay Originals Pitch, and the Getty Images Archive Pitch.
The FACTory | Image Credit: Jess Middleton
FACTORY DECISION MAKERS | Image Credit: KELLI MORRIS
Cut to the Chase | Image Credit: Jess Middleton
A FOCUS ON DIVERSITY
AIDC 2022 saw a renewed focus on diversity in the program and in participation by delegates. 58% of total registered delegates were women, reflecting the high proportion of women in key creative and decision-making roles in the documentary and factual sector.
2022 also saw over 65 participants in the Indigenous Creators Program, a dedicated strand of sessions for First Nations practitioners curated in 2022 by First Nations Producer Penny Smallacombe.
And thanks to philanthropic contributions from 19 production companies, broadcasters, support organisations and individuals to AIDC's Leading Lights Fund, 32 emerging, Indigenous and CALD (culturally and linguistically diverse) practitioners were introduced to the sector at this year's conference.
Featuring a special Leading Lights Pitch and launching new Industry and Alumni programs for participants, Leading Lights continues to embody AIDC's commitment to bringing new and diverse nonfiction storytellers to the fold.
Indigenous Creators Program | Image Credit: Jess Middleton
Leading Lights 2022 | Image Credit: Jess Middleton
AIDC AWARDS
Announced last week after a presentation ceremony in ACMI on Wednesday 9 March, the second annual AIDC Awards saw the following projects take top honours: Best Feature Documentary – I'm Wanita (with a $5,000 cash prize provided by awards partner Film Finances); Best Documentary / Factual Series – See What You Made Me Do; Best Documentary / Factual Single – Our African Roots; Best Short-Form Documentary – Freedom Swimmer; Best Audio Documentary – Tender: Roia Atmar (with a $3,000 cash prize provided by AFTRS); Best Interactive / Immersive Documentary – Gondwana.
The Stanley Hawes Award acknowledging outstanding contribution to the sector was also announced, with screen journalist David Tiley receiving the honour and a $5,000 cash prize. 
AIDC AWARDS | Image Credit: Jess Middleton
STANLEY HAWES AWARD-WINNER DAVID TILEY | Image Credit: JESS MIDDLETON
MORE TO COME FROM AIDC IN 2022
While the 2022 conference might be over, registered AIDC delegates can watch almost all of this year's sessions on catch-up for another month via the AIDC Online platform. 
AIDC will continue to work to support the documentary and factual sector year-round, and will soon be seeking new donors for the 2023 Leading Lights Fund.
Keep watch on the AIDC eNews for news and announcements about upcoming programs, developments, and the post-conference survey.
AIDC also thanks its many industry partners – particularly VicScreen, ACMI, Screen Australia, ABC and SBS – without whom this year's event would not have been possible.
AIDC 2022 ran 6-9 March 2022 at ACMI and online, with an online-only international marketplace 10-11 March 2022. www.aidc.com.au
IMAGE CREDIT: JESS MIDDLETON
9 March 2022
AIDC 2022 AWARD WINNERS ANNOUNCED
Read More
19 May 2022
THE POST LOUNGE DOC SERIES PITCH WINNER ANNOUNCED
Read More