AIDC 2022 AWARD WINNERS ANNOUNCED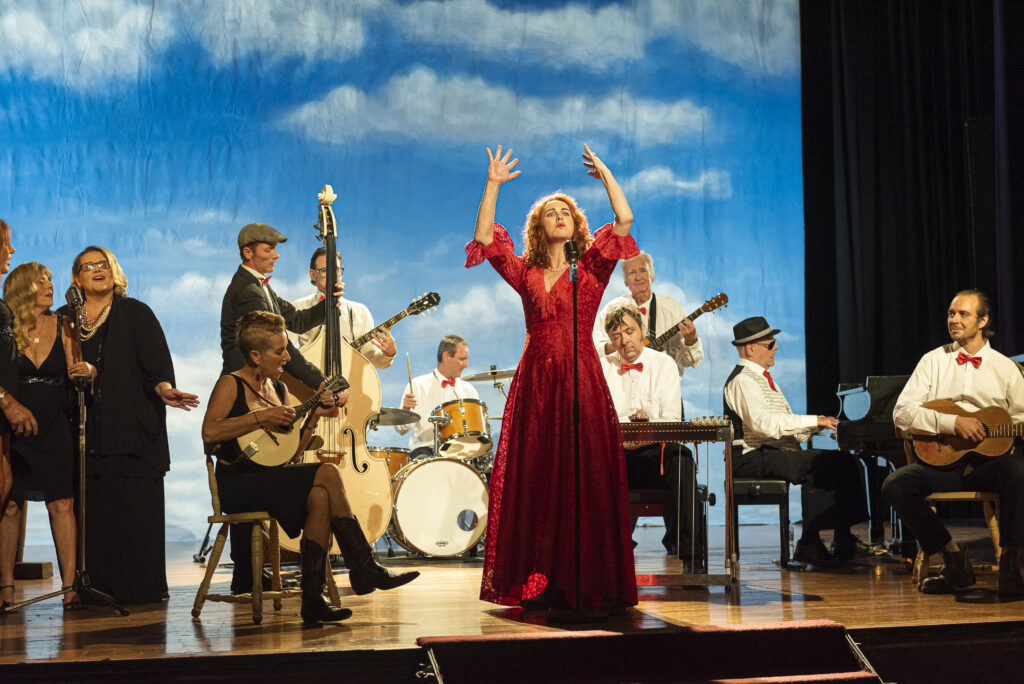 Last night at a special presentation hosted in ACMI, Melbourne and livestreamed around the world, the Australian International Documentary Conference (AIDC) announced the winners of the 2nd Annual AIDC Awards. 
Hosted by journalist Patrick Abboud, the AIDC Awards ceremony marked the conclusion of the four-day in-person and online conference for the documentary and factual industry, with two more days of International Marketplace meetings still to come (10-11 March). 
The 2022 hybrid event saw the participation of more than 90 local and international speakers, and over 100 local and international decision makers in a program of 40-plus sessions and 500 curated meetings, with many more spontaneous meetings made throughout the event.
AIDC 2022's hybrid format provided the best of both worlds for delegates, facilitating a much-anticipated opportunity to catch-up in-person, as well as giving them enhanced online access to international speakers and decision makers.
The AIDC Awards provided the perfect capstone to the 2022 conference, acknowledging the very best in Australian documentary and factual from the past 12 months.
THE WINNERS OF THE 2ND ANNUAL AIDC AWARDS, AS SELECTED BY THE AIDC AWARDS JURY, ARE:
BEST FEATURE DOCUMENTARY
With a $5,000 cash prize, presented by Film Finances.
WINNER | I'M WANITA | 2020
Matthew Walker, Carolina Sorensen, Clare Lewis, Tait Brady | People Productions
Jury Statement: "A daring boldness punctuates this film stylistically, and its colour, music and larger-than-life personalities give it a dramatic flair that seems stranger than fiction. Yet I'm Wanita simultaneously succeeds in capturing life's fragility and disappointments, providing a complex view of reality with a subject with so much heart that it is impossible not to reflect on who we are as individuals and what we too can do to make the world a better place."
Tait Brady & Carolina Sorensen
BEST DOCUMENTARY/FACTUAL SERIES
WINNER | SEE WHAT YOU MADE ME DO | 2021
Tosca Looby, Karina Holden | Northern Pictures
Jury Statement: "We were all struck by the power of this original documentary series. Harrowing, compelling, important, it treated the cases and people involved with care, and dealt with the raw testimony of the contributors in a compassionate and fresh way. The slow build of the opening story revealed the insidious, subtle ways that domestic violence can creep and grow in a relationship. By showing the varied types of violence, explaining terms such as coercive control, and showing that no matter how difficult and complicated the situation, help was out there, felt like public service television at its best. See What You Made Me Do stayed with us, haunted us even. These are important stories that people need to hear, engage with, and try to understand. And it certainly felt like a vital tool in the mission against domestic violence.
BEST DOCUMENTARY/FACTUAL SINGLE
WINNER | OUR AFRICAN ROOTS | 2021

Santilla Chingaipe, Tony Jackson, David Collins | Chemical Media

Jury Statement: "Our African Roots, explores the surprising and forgotten history of African Australians and their role in events that helped shaped post colonial Australia. Led by the formidable Santilla Chingaipe, the documentary uses an approachable tone that invites conversation and awareness raising for a mainstream audience. Beautifully crafted, the film has high production values and utilises stylish dramatised vignettes that speak to an audience that needs to hear the message. Stories like Our African Roots are an important legacy that helps to rewrite and expose the dominant colonial narrative. More please!"
Santilla Chingaipe & Tony Jackson
BEST SHORT-FORM DOCUMENTARY
WINNER | FREEDOM SWIMMER | 2021
Olivia Martin-McGuire, Brooke Silcox, Ron Dyens | No Thing Productions & Sacrebleu Productions 

Jury Statement: "Freedom Swimmer is a short documentary that uses a unique hybrid approach incorporating archival material, footage of protests, staged scenes between grandfather and granddaughter plus animation to illustrate flashbacks. It draws on parallels between those who escaped China in the 1970s with the modern day protesters in Hong Kong, providing a unique perspective on how the past affects the future. These emerging filmmakers have showcased their talent in creating a truly unique, contemporary and moving documentary that's absorbing and is quite relevant in today's global political landscape."
Olivia Martin-McGuire & Brooke Silcox
BEST AUDIO DOCUMENTARY
With a $3,000 cash prize, presented by AFTRS.
WINNER | TENDER: ROIA ATMAR | 2021

Madison Griffiths, Beth Atkinson-Quinton | Broadwave
Jury Statement: "We're thrilled that Tender: Roia Atmar is the winner of the 2022 Best Audio Documentary series. This podcast accomplishes the rare feat of giving voice to a community that many have no access to, in solidarity with those who do. It's powerful and impactful storytelling that hooks the listener with one character's story, and invites them to understand their experiences before, during and after a horrific and life-changing event. The skilful use of music and sound design throughout is highly evocative, rounding out what is a nuanced and thoughtful series. We came away thinking differently about a familiar topic, and felt more invested and empathetic toward the many, many people who have experienced domestic abuse. We also feel gratitude and admiration for Roia Atmar, who so bravely shared her story and will no doubt inspire other women, in similar situations, to step forward."
BEST INTERACTIVE/IMMERSIVE DOCUMENTARY
WINNER | GONDWANA | 2022
Ben Joseph Andrews, Emma Roberts | Pernickety Split
Jury Statement: "With not one word spoken aloud, Gondwana is an open-play documentary set within a lush 3D spatial rainforest that unfolds over a 24 hour experience, as the devastating effects of a century-worth of climate crisis impacts the storyworld. Participants can roam the forest, watch the sunset on the beach, interact with precious flora, fauna — and data — as they witness the effects of real climate change data unravel a precious ecosystem. For its inventive use of long timescale and climate crisis simulation harnessed within a poetic, contemplative user experience, Gondwana wins the AIDC Best Interactive/Immersive Documentary Award for 2022."
SPECIAL MENTION | RAVI AND EMMA | 2021
Kylie Boltin, Ella Rubeli, Ravi Vasavan, Emma Anderson | SBS
Jury Statement: "This interactive web-doc employs the platform to profound effect. From the unobtrusive gesture recognition system to aesthetics finely attuned to the characters' story, the work shows careful attention for both source and craft. For a moving and inviting portrait of love shared through sign language, Ravi and Emma receives a Special Mention from the Jury in the AIDC Best Interactive/Immersive Documentary Award for 2022."
Ben Joseph Andrews & Emma Roberts
STANLEY HAWES AWARD
As part of the AIDC Awards ceremony, the already-announced Stanley Hawes Award was presented to screen journalist, David Tiley. 
David began his long association with the screen industry as an educational script writer with the South Australian Film Corporation in 1973. This led to an eventful career in educational programs, documentary, script editing and screen funding, before his recruitment as the editor of ScreenHub in 2005.
He has written extensively on changing trends, policy issues and market developments, and is a tireless champion of documentary and factual production. We congratulate David on the well-deserved award and look forward to more of his journalism in the future. 
Awards Host Patrick Abboud and Stanley Hawes Award-Winner David Tiley
AIDC FACTORY PITCH PRIZES
In addition to the AIDC Awards, AIDC announced the winners of the pitch prizes for the 2022 FACTory International Pitching Showcase.
Our friends at Doc Edge, Hot Docs, and Sunny Side of the Doc have generously awarded prizes to five of the project teams that competed in The FACTory.
SUNNY SIDE OF THE DOC PRIZE (France) 
Two complimentary passes for one team plus a two-hour online mentoring session for the winning project team. Note: accreditations will be valid for online or physical attendance at Sunny Side of the Doc 2022.
WINNER: Our Hoolocks
---
HOT DOCS PRIZE (Canada)
Two online passes to attend Hot Docs Industry in 2022.
WINNER: Guardians of the River
---
DOC EDGE PRIZE (New Zealand) 
Three complimentary All Access passes to the Doc Edge Forum 
WINNERS: The Last Daughter, Solastalgia: Journeys Through A Scarred Landscape, and Campesinos. 
AIDC congratulates all Awards and FACTory Prize winners, including all the nominees and projects that have participated in both programs this year.
AIDC 2022's hybrid conference component took place at ACMI, Melbourne, from 6-9 March 2022.  
3 March 2022
AIDC 2022 STARTS SUNDAY
Read More