AIDC & FILM VICTORIA LAUNCH NEW $25,000 DOCUMENTARY GAME PITCHING INITIATIVE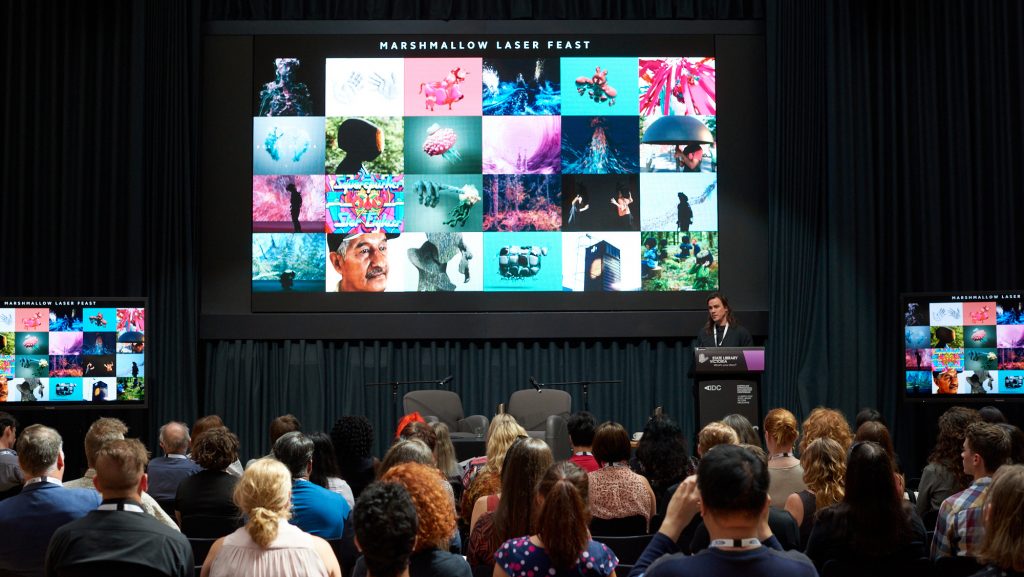 The 2021 Australian International Documentary Conference (AIDC) will open on Sunday 28 February with Innovation Day – shining a light on what the future of nonfiction storytelling might look like. It will include sessions from local and global tastemakers, as well as a new $25,000 documentary game pitching initiative. 
Presented by Film Victoria, Innovation Day will provide delegates with real and practical insight into new trends and innovations. Special guests Tabitha Jackson (Sundance Film Festival director) and two-time Emmy winning documentary creator Lynette Wallworth will tackle 'The Future of Documentary' in an in-depth conversation event. They will be joining Artistic Director and Co-Founder of the Co-Creation Studio at MIT Open Documentary Lab, Kat Cizek, a two-time Emmy and Peabody-winning documentarian working across emergent platforms. Pivotal in documentary's digital revolution, Kat will discuss her work at MIT and what digital technologies can offer documentary storytelling through the intersections of filmmaking, journalism, communities, technology and Artificial Intelligence. 

Continuing its mission to foreground new opportunities for the documentary sector, AIDC, in partnership with Film Victoria, is launching State of Play, a new $25,000 documentary game pitching initiative. Taking place on the first day of the Conference, State of Play is designed to strengthen and showcase the collaboration between nonfiction stories and gaming technologies to bring new documentary games to life.
As part of Innovation Day, four selected State of Play teams will pitch their concepts live to a jury of international and local experts. The winning team will be awarded $25,000 in development funding from Film Victoria to turn their vision into a playable reality. 
Minister for Creative Industries Danny Pearson said: "This world-leading initiative gives our renowned factual storytellers and games developers the opportunity to join forces, learn from each other and explore the untapped possibilities of documentary games. Victoria is the creative state and the Victorian Government is a proud supporter of AIDC and our screen sector. We look forward to seeing the ideas that are sparked when games technology and compelling real-life stories come together."
Applications for State of Play are now open across Australia for nonfiction practitioners to submit a concept for a documentary game. Selected project teams will receive mentoring from Kat Cizek, and Vassiliki Khonsari, co-founder of the award-winning immersive games studio, iNK Stories (New York), to help them develop their concepts over the 6-week period.
AIDC's commitment to supporting innovation in documentary and factual content will also be celebrated with the AIDC Interactive/Immersive Documentary Award, which includes a $3,000 cash prize presented by Jumpgate and Deakin University. Entries for submissions to the inaugural AIDC Awards are now open. 
Alice Burgin, AIDC CEO and Conference Director, said: "AIDC's tradition of launching the conference with a focus on innovation has been a fantastic way to bring into sharp focus the trends and technologies that continue to shape our industry. We are so grateful for the continuing support of Film Victoria in helping us host this day, and sharing our vision for an Australian nonfiction screen sector that is universally relevant, curiously imaginative and perpetually excited by what the future has to offer."
AIDC 2021 Online will run 28 February – 3 March 2021. Apply now for State of Play. 
28 October 2020
AIDC 2021 ONLINE ANNOUNCES FIRST TASTE OF PROGRAM
Read More
18 November 2020
2020 New Perspectives Pitch Lab Participants Announced
Read More