AIDC ANNOUNCES PODCAST FOCUS WITH EAR HUSTLE, NEW MARKET & AUDIO DOCUMENTARY AWARD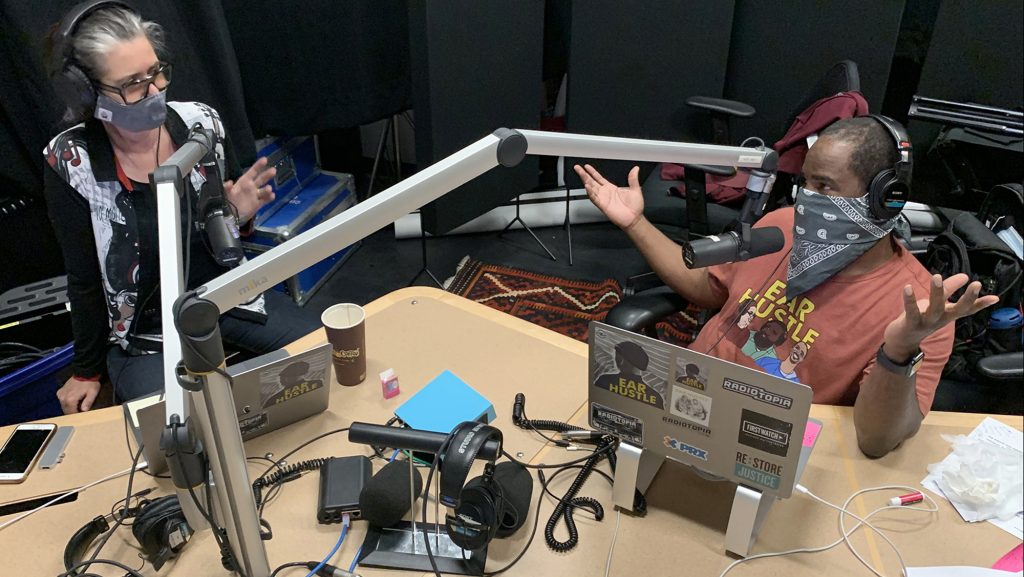 The 2021 Australian International Documentary Conference (AIDC) will integrate a bigger spotlight on    audio documentaries (aka podcasts), which will see award-winning guests in discussion, plus a podcast buyers' pitch, and a new AIDC Best Audio Documentary Award prize. 
In a spotlight on the podcast Ear Hustle, presented in partnership with the Wheeler Centre – Melbourne's centre for books, writing and ideas, AIDC will host the co-creators and co-hosts – artist Nigel Poor and formerly incarcerated Earlonne Woods – alongside executive producer, Radiotopia's Julie Shapiro. Together they will discuss the art of audio storytelling, the impact of communities telling their own stories, and how they keep creating amid a pandemic that limits their access to participants. 
Launched in 2017 from inside California's San Quentin State Prison, Ear Hustle tells stories of incarceration and of life after release with wit, warmth and empathy. The podcast has garnered numerous honours from the Third Coast International Audio Festival and the Webby Awards, as well as nominations for two Peabody Awards and the inaugural Pulitzer Prize for audio reporting.
Alice Burgin, AIDC CEO, said: "We're excited to introduce a bigger focus on podcasting at AIDC – it's an increasingly popular form of information and entertainment and one that needs its own focus and discussion. We hope that by working with some of the leaders in podcast creation and international buyers in the field, we will be able to create meaningful connections for our local creators."
The Wheeler Centre's CEO, Caro Llewellyn, said: "The Wheeler Centre is honoured to partner with AIDC to showcase this award-winning podcasting team as they share their insights about Ear Hustle's extraordinary creation and evolution to their many avid local fans. In creating community and sharing the important stories of incarcerated and formerly-incarcerated individuals, Ear Hustle has indelibly impacted the international podcasting landscape for the better."
The session is part of AIDC's commitment to including audio documentaries more broadly across the program, which includes providing new podcast pitching opportunities as part of AIDC's curated market Cut to the Chase. 
Today AIDC is also announcing two new buyers with a focus on audio: Jennifer Goggin, Head of Features and Special Interest Content – Digital Audio, PodcastOne Australia – SCA, and Carly Frankel, Manager of Podcast Development, Wondery (USA), who will join AIDC's growing list of local and international decision makers.
Delegates with All Access passes can submit their audio documentary projects to Cut to the Chase until 31 January 2021. More audio documentary buyers will be announced in the coming weeks. As part of a new partnership, eight audio documentary projects submitted to Cut to the Chase will be selected for complimentary project consultations prior to AIDC with one of Australia's leading podcast agencies, Audiocraft, to hone their ideas prior to entering the market. 
Finally, AIDC is delighted to announce a partnership with AFTRS, who will present a $3,000 cash prize to the winning entry of the Best Audio Documentary Award as part of the inaugural AIDC Awards. The Awards will recognise the talents and expertise of Australian practitioners working in the non-fiction sector across six awards categories. The regular deadline for the AIDC Awards closes on Wednesday 2 December with the late deadline for submissions closing on Wednesday 16 December 2020.
AIDC 2021 Online will run 28 February – 3 March 2021. Register today. 
25 November 2020
AIDC ALUMNI FILES: WITH NORTHERN PICTURES' KARINA HOLDEN
Read More
2 December 2020
LAUREN BECK: TAKING HER TALENTS FROM MELBOURNE TO ASIA
Read More