AIDC 2020 PROGRAM SNEAK PREVIEW
TAKE A PEEK AT THE 2020 MASTERS PROGRAM, WITH FERAS FAYYAD, AMY BERG AND MORE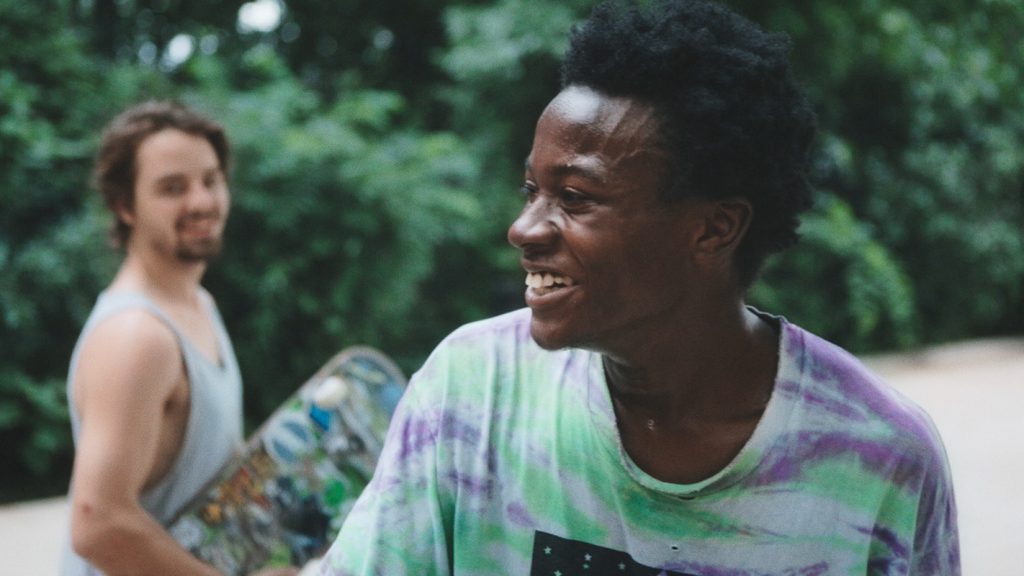 Get ready for AIDC 2020! The full program of sessions, panels and marketplace activities will be revealed next week on Wednesday 29 January. 
In the meantime, we're announcing an esteemed new guest and providing a special sneak preview of the 2020 Masters program, featuring some of the most exciting talents in documentary and nonfiction screen production today.
Firstly, we're thrilled to announce the attendance of Gordon Quinn, Artistic Director and co-founder of US-based Kartemquin Films, where for over 50 years he has helped hundreds of documentary filmmakers. 
Gordon and Kartemquin have stewarded some of the most human and engaging documentaries in the history of the field, including Hoop Dreams, Life Itself, Abacus: Small Enough to Jail, Minding The Gap [pictured above] and many more. 
At AIDC 2020, Gordon will present a very special Masters of Producing session, featuring insights from his five decades in the industry and experiences working with countless different projects.   
The AIDC 2020 Masters program will also cover topics as diverse as producing in war zones, crafting engaging and socially conscious factual television, and embracing the multi-sensory potentials of new technology to enhance nonfiction storytelling. The sessions include:
MASTERS OF PRODUCING: GORDON QUINN OF KARTEMQUIN FILMS
Presented by Film Victoria
Meet the producer and creative director at the heart of one of the world's most enduring and celebrated documentary collectives.
MASTERS: THE PURSUIT OF JUSTICE WITH AMY BERG
Academy®-nominated documentary filmmaker, Amy Berg, explores the pursuit of truth and justice in her documentaries examining some of the US's most controversial criminal cases.
MASTERS: FILMING WAR WITH FERAS FAYYAD
Presented by Al Jazeera 
Feras Fayyad takes us through the challenges of making films with impact in demanding settings, and amidst competing narratives.
MASTERS: NINDER BILLING ON MAKING PROGRAMS THAT PEOPLE WILL WATCH (WHILE NOT SELLING OUT)
BAFTA award winner Ninder Billing shares her insights on how to turn an idea into irresistible factual content.
MASTERS: CREATIVE PRODUCING WITH JOHN SMITHSON
John Smithson discusses the creative challenges in crafting story in his new true-crime series I, Sniper.
MASTERS: MULTI-SENSORY PERSPECTIVES WITH ROBIN MCNICHOLAS
Presented by Film Victoria
Join Marshmallow Laser Feast's Robin McNicholas as he sheds light on their multi-sensory experiences at the intersection of science, technology, art and nature.
MASTERS: FINDING STORIES IN INTERNET DATA WITH LAM THUY VO
Presented by The Google News Initiative
Hear about social media's ever-changing nature from someone at the frontline of data-driven storytelling.
Organised, as always, in the spirit of collaboration and knowledge exchange, AIDC 2020 provides the best opportunity to hear from and potentially meet the luminaries in this list.
The AIDC Masters sessions are open to all AIDC pass-types: Gold, All Access, and Focus passes (on sale now), and Day passes (on sale 29 January). 
Don't miss out. REGISTER NOW and secure your access to this unmissable program.
21 January 2020
18 PROJECTS REVEALED FOR AIDC'S FACTORY 2020
Read More
24 January 2020
VICE, SCREEN AUSTRALIA & AIDC ANNOUNCE FINALISTS FOR PITCH AUSTRALIANA
Read More