PRODUCTION INCENTIVE REFORMS REMAIN A HOT TOPIC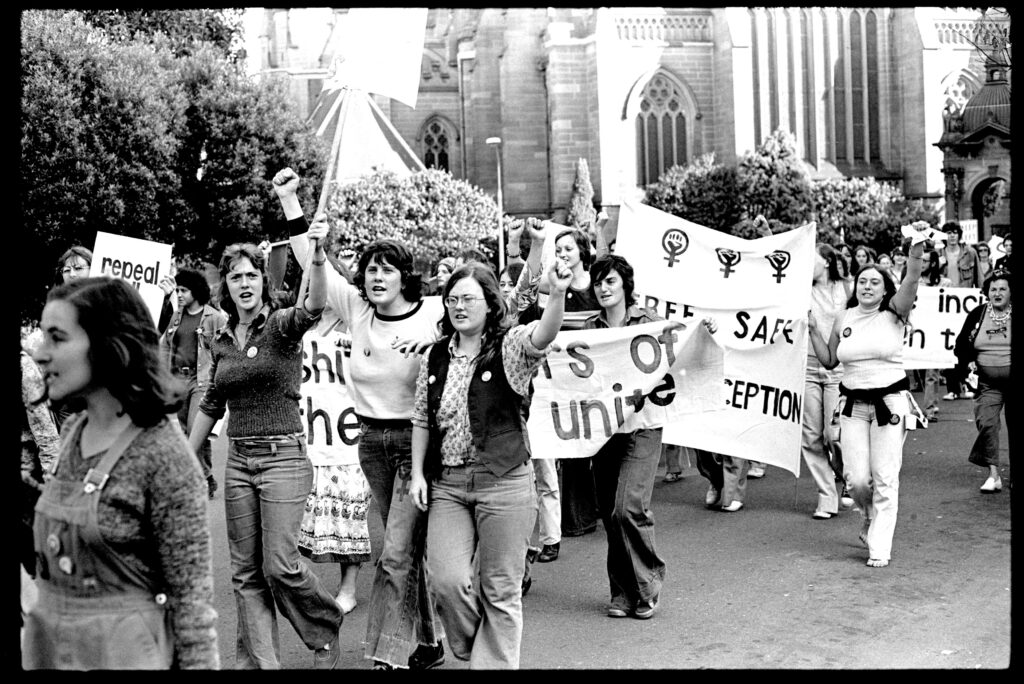 Image credit: May Day Parade, Sydney 1974, Anne Roberts. Supplied by Mitchell Library, State Library of New South Wales and Courtesy SEARCH Foundation. Brazen Hussies © Film Camp 2020.
Following the federal government's proposed changes to production incentive reforms announced in September 2020, members of the Australian screen sector expressed widespread concerns about their impact. We saw some of these concerns voiced in online industry discussion forums hosted by AIDC in late 2020 and during AIDC 2021.  
Lobbying by industry bodies such as Screen Producers Australia, Australian Directors' Guild and Documentary Australia Foundation (DAF), including an open letter penned by DAF and sent to Arts Minister Paul Fletcher, appears to have made some headway with the government recently announcing several measures in response to industry feedback. These include retaining the Producer Offset at 40 per cent for theatrical feature documentaries, plus an increase to the offset from 20 to 30 per cent for documentary and factual content made for television and streaming platforms. 
Despite lobbying by the nonfiction sector, a number of the government's proposed reforms announced in September 2020 were upheld, including the QAPE threshold for theatrical feature documentaries remaining at $1 million and the removal of the Gallipoli Clause.
While the moves overall have been regarded as big wins by some sectors of the industry, others view these new reforms as having significant repercussions for the future of independent theatrical documentaries. 
"Obviously, any impediment on low budget docs below the $1 million threshold is not ideal, and losing the Gallipoli Clause is also a frustrating loss," says writer/director Kriv Stenders (Slim & I, The Pacific: In the Wake of Captain Cook, Brock Over the Top). "But retaining the 40% offset is still a major win and forces all of us to now think laterally about the stories we make, the markets and audiences we make them for and how we navigate a new distribution landscape that is still very much evolving. The term 'adapt or die' has never been more relevant."
Producer and distributor Sue Maslin AO, from Film Art Media, acknowledges that factual series producers and format producers will be pleased with some of the recent changes but she believes the situation looks grim for those making feature documentaries.  
"The vast majority of [feature documentaries] are – and should continue to be made – for budgets less than $1 million. These films find targeted audiences and create value over the long tail, both culturally and financially. Gross box office return is just one metric and has been misused in order to cast doubt on the value of the sector."
Some of the Film Art Media releases falling into this category are Celebrity-Dominick Dunne, Jill Bilcock- Dancing The Invisible, The Show Must Go On and Brazen Hussies (produced by Film Camp).
"All of these films found their audience and will continue to do so for years to come," says Sue. "None of them had a budget over $1 million and I can't see how they would be financed going forward without access to the Producer Offset rebate." 
Producer Philippa Campey has similar thoughts about recent films made by her production company. 
"The previous four feature docs Film Camp has produced since 2019, for theatrical release – The Leunig Fragments, Brazen Hussies, Palazzo Di Cozzo and Anonymous Club – would not be able to be financed under the new scheme," says Philippa. 
"While we applaud the retention of 40% offset for theatrical, and increase to 30% for television films, the legislation should be able to differentiate between content (drama or documentary), in order to maintain a reasonable threshold at $500,000 for theatrical feature documentaries." 
Philippa also believes the government's recent approach requires a more global outlook. 
"In an international market with an increasing appetite for feature length docs, it seems problematic to be hindering the ability to finance Australian documentaries – in particular, internationally-focused stories from Australia that rely on the Gallipoli clause," says Philippa. 
DAF has been lobbying the office of the Arts Minister, Paul Fletcher, with its open letter to the minister containing 251 signatories from across the screen sector. The foundation is encouraging members of the screen industry to sign the open letter and send letters to their local MPs outlining their concerns.
For further insight into how the new reforms may impact the documentary and factual sector, check out David Tiley's take on everything at Screenhub. 
AIDC will continue to monitor the situation and bring you further updates as they come to hand.
5 May 2021
REGIONALITY FIRST LINE-UP ANNOUNCEMENT
Read More
27 May 2021
ABC, AIDC & NORTHERN PICS ANNOUNCE INAUGURAL INDIGENOUS DOCUMENTARY PLACEMENT RECIPIENT
Read More