MIFF 69 PICKS BY TEAM AIDC
HOT TIPS FOR YOUR MIFF DOCUMENTARY VIEWING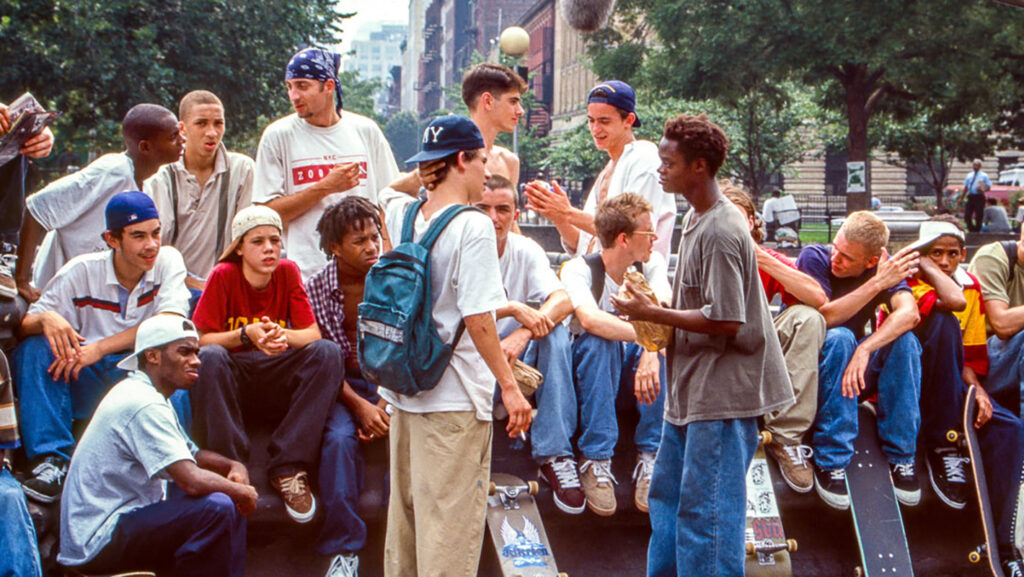 MIFF's in-person cinema screenings might have been pushed back a week but don't let that stop you from getting excited about the hybrid program offerings, with online screenings via MIFF Play starting this Thursday, 5 August.
The AIDC team has scoured the MIFF 69 and MIFF Play selection for this year's must-see documentaries, and, as always, there are plenty to pick from.
If you were quick, you picked up tickets to Jennifer Peedom's follow-up to 2017's Mountain, the anticipated (and adjacently-themed) River; or perhaps you nabbed a screening of Palazzo di Cozzo, a heartwarming bio-doc about the iconic Melbourne furniture salesman. Fans of '90s indie films will likely be watching The Kids [pictured above], Eddie Martin's look at the not-always-rosy aftermath of the release of Larry Clark's controversial Kids; while Ben Lawrence's Ithaka, about Julian Assange's father, John Shipton, will no doubt intrigue those who've followed the Wikileaks founder's dramatic incarceration.  
There are still chances to get tickets for excellent films like Wash My Soul in the River's Flow, a remarkable performance documentary about Archie Roach and Ruby Hunter; the fascinating Under the Volcano, an AIDC FACTory Pitch alumni, about a storied Caribbean recording studio; and A.M. Broinowski's Uluru and the Magician (another FACTory project), following a Sydney illusionist's attempt to make Uluru disappear.    
We know it's (almost) impossible to see everything, but it's worth a shot. And to help you decide what to catch – ticket levels permitting – we've put together a special list of AIDC Team selections.
Faya Dayi
In her feature documentary debut, Mexian-Egyptian filmmaker Jessica Beshir focuses her lens on Ethiopia's lucrative agricultural product, the Khat plant, an addictive stimulant that has devastated an older generation of users. Filmed in striking black and white, Faya Dayi follows the life-cycle of the plant from production to harvest and its impact on both the older generation for whom it has spiritual significance and the younger generation who recognise its tragic consequences and want to break the cycle. Hot off the festival circuit having screened at Sundance, Hot Docs, and Visions Du Reel, Faya Dayi introduces a new voice in Ethiopian documentary storytelling to MIFF audiences and reveals the struggles and hopes of those that khat has affected.
Natasha Gadd, AIDC CEO / Creative Director  
Taming the Garden
An ancient and giant tree floats upright off the Georgian coast – a mesmerising scene of a silent sentient god, now removed from the earth and restrained, en route to its new home: a hobby garden of one the country's wealthiest men. In this lyrical and quiet film, the melancholic fate of these trees exposes the more human struggle of extreme wealth dominating over the poor, as the trees, and communities, are stripped of dignity.  
Danielle McCarthy, Industry Manager
Come Back Anytime
The documentary equivalent of comfort food, Come Back Anytime takes a seat at the counter of Bizentei: a Tokyo shoyu (soy sauce-based) ramen bar run by master chef Masamoto Ueda and his wife for over 35 years. Capturing the cuisine, the community and the characters that frequent the low-key but much-loved establishment – who even help Ueda-san gather farm-fresh ingredients – it's as warm and satisfying as a bowl of broth, and perfect viewing for anyone who enjoys the convivial delights of shows like Midnight Diner. Plus, it's on MIFF Play, so you can enjoy it with take-away ramen at home.  
Chris Harms, Marketing & Communications Manager
Sisters with Transistors
An area of feminism left on the sidelines, Sisters with Transistors takes a vast and enchanting retrospective look at the female pioneers of electronic music who used composition as a form of energy to propel the feminist movement and empower a sense of creative freedom and liberation in repressed women. As women continue to break through the silence of our history, what better way than through sound itself?
Chasca Summerville, Partnerships & Initiatives Producer
Paper City 
I first became aware of Adrian Francis, a Melbourne writer/director who was living in Japan, with his MIFF Accelerator short Lessons From The Night. The film was pure poetry, and I was keen to see how he might translate that to a feature. Paper City examines the power of personal memories and the battle against them by official histories. The three subjects in his film, survivors of the firebombing of eastern Tokyo in late-WWII who are now in their final years, are honest and fascinating, and their stories deeply moving.
Alex Castro, General Manager
Roadrunner: A film about Anthony Bourdain
I had no reservations in selecting Roadrunner: A film about Anthony Bourdain as my MIFF pick! In his long running docuseries (Parts Unknown, No Reservations, The Layover) Anthony Bourdain felt like a mate travelling the world, eating food with his mates, and his abrupt death felt like it hit the world collectively as a death of a mate. Bourdain had a particularly insightful and honest take on the world, both in culinary terms and culturally, and the opportunity to revisit his journey through unseen interviews and footage is one that I am most excited for.
Samantha Jackson, Project Manager
The 69th Melbourne International Film Festival runs 5 – 22 August 2021, in cinemas and online. miff.com.au
21 July 2021
AIDC 2022 DATES ANNOUNCED
Read More
4 August 2021
DOC SOCIETY AND AIDC ANNOUNCE ART & IMPACT FELLOWSHIP AUSTRALIA
Read More