And That's A Wrap! Farewell From AIDC 2019
CONCLUDING THE MOST SUCCESSFUL AIDC EVER HELD IN MELBOURNE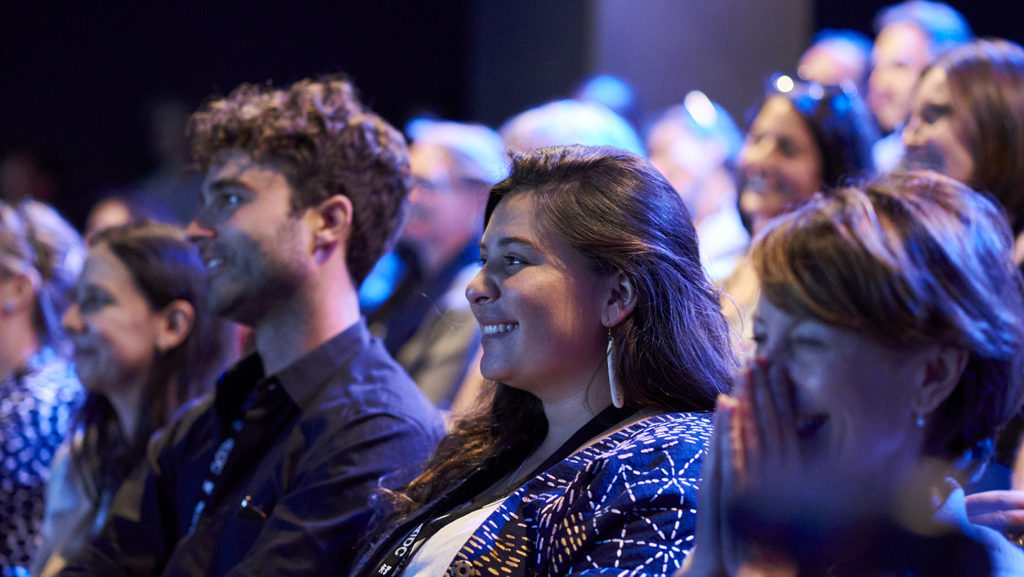 AIDC 2019 RECORDS FOURTH CONSECUTIVE YEAR OF GROWTH
More than 750 delegates attend Melbourne event.
Reflecting a resurgent engagement by the documentary and factual sector in learning and discussion, AIDC 2019 has capped four years of successive growth by welcoming a total of 757 delegates – a 27% increase since its move to ACMI in Melbourne in 2016.
"What this year's conference demonstrated is that there is a healthy and vibrant community of storytellers here in Australia who are excited to come together for global conversations that will strengthen our industry and build connections with each other," said AIDC CEO & Conference Director, Alice Burgin.
Ms. Burgin also noted that AIDC 2019 unlocked more than $250,000 AUD in commissions and professional development funding, across its marketplace, pitching and industry development initiatives.
ALICE BURGIN | PHOTO: DANIEL AULSEBROOK
An Increasingly Diverse Community
A highlight of AIDC 2019 was the diversity reflected in the program and among the delegates.
Under AIDC's philanthropic Leading Lights program, 41 emerging, Indigenous and culturally and linguistically diverse practitioners were introduced to the sector.
58% of registered delegates were women, and there were more than 50 participants in the Indigenous Creators Program, which was designed to target information and skills around pitching, storytelling, funding, legal considerations and distribution.
INDIGENOUS CREATORS PROGRAM
Serving An Evolving Industry
AIDC's forward-thinking approach to an evolving industry saw successful initiatives and sessions such as Raw Data, Real Stories; Sound It Out Audio Documentary Pitch and the Reel Smart Academic Pitch.
Capacity sessions about the future of documentary storytelling and the industry included those given by Tea Uglow from Google Creative Lab, and Jess Fuselier, who runs the Creative Distribution Initiative at the Sundance Institute.
TEA UGLOW | PHOTO: DANIEL AULSEBROOK
A Host of Stand-Out Sessions
Other stand-out sessions at AIDC 2019 included entries in the new Masters series of masterclasses – Masters: Music Documentary with Alan Hicks (the co-director of the Grammy-winning Quincy) Masters: Producing with Diane Weyerman (Participant Media, USA), and Masters: Cinematography with John Brown (UK, cameraperson for David Attenborough).
Equally well-attended were sessions like Ask Me Anything: Burning Questions for Industry Heavyweights (a who's who of the Australian industry tackling the tough questions), Documentary Scriptwriting with Jennifer Peedom, and A Survivor's Guide to Surviving R. Kelly, with Tracey Spicer and Surviving R. Kelly series executive producer Tamra Simmons.
ALAN HICKS | PHOTO: TERESA NOBLE
TAMRA SIMMONS | PHOTO: DANIEL AULSEBROOK
A Thriving Marketplace
An energetic suite of Marketplace activities saw international interest in several of the 10 projects pitched at The FACTory pitching forum.
The bespoke pitching program Cut to the Chase curated 288 meetings between producers and decision makers.
Beyond Cut to the Chase, there were 46 new project pitches across the Meet Your Maker: XR Marketplace, Pitch Australiana, Untold Australia Pitch, Reel Smart Academic Pitch, Raw Data Real Stories, and The FACTory International Pitching Forum initiatives.
Of note, New Zealand's Doc Edge festival and market awarded their FACTory pitch prize to the well-received A Place to Stand (Tess Hutson, Jane Robertson), a deeply personal exploration of family violence.
YOSHIHIKO ICHIYA (NHK) & JESS FUSELIER (SUNDANCE INSTITUTE), THE FACTORY | PHOTO: DANIEL AULSEBROOK
AXEL ARNO (SVT), CUT TO THE CHASE | PHOTO: DANIEL AULSEBROOK
Prizes & Awards
Other initiative and prize recipients announced at AIDC:
> The BBC Studios and Create NSW Unscripted International Producer Placement initiative was awarded to Max Bourke. This $50,000 grant supports a NSW-based documentary maker to work alongside the BBC Studios documentary team in the UK for up to six months;
> The Raw Data, Real Stories Pitch Prize, awarded to Producer Elle Marsh and Director Nicole Precel from The Age for their project The Invisible Crime. The prize is $40,000 in development funds provided by Google News Initiative for a data journalism project;
> The ACCESS Mentorship Program Prize – two paid Internships with Beach House Pictures in Singapore – awarded to Anthony Frith and Abby Dunn;
> The ACCESS Mentorship Program runner-up prize of a complimentary festival pass to the Sheffield Doc/Fest, awarded to Sarah Steel;
> Previously announced was the Stanley Hawes Award for Outstanding Contribution to Australian Documentary, awarded in 2019 to James Bradley.
> In addition, seven projects pitched at the SBS Untold Australia Pitch were awarded $10,000 each, totalling $70,000 to further develop projects for Season 5 of the acclaimed series.
MAX BOURKE, UIPP RECIPIENT | PHOTO: DANIEL AULSEBROOK
THE TEAM BEHIND 'THE INVISIBLE CRIME', RAW DATA REAL STORIES PITCH WINNERS | PHOTO: DANIEL AULSEBROOK
JAMES BRADLEY | PHOTO: DANIEL AULSEBROOK
Board Changes
AIDC also announced Board Changes following the AGM which was held during the Conference.
After six years of loyal service, Frank Filosi, General Manager Adelaide, Perth and Operations for Network Ten, resigned as AIDC Treasurer and, after three years on the Board, Denise Eriksen decided not to re-nominate. AIDC gratefully thanks both Frank and Denise for their exceptional governance and contribution to the Board.
The new Board appointee voted in at the AGM is Kate Pappas, a Creative Producer responsible for Producing, Co-Producing, Series Producing and Line Producing over 30 hours of television; operates production house Wilding Pictures, and works regularly with Genepool Productions (most recently on Vitamania), Wildbear Entertainment, Chemical Media and Renegade Films.
Non-Fiction Documentary Showcase
In addition, AIDC and ACMI's Non-Fiction Documentary Showcase profiled AIDC's international and local guests to a public-facing audience for the first time, with sold-out sessions including the screening of the Victorian premiere of Travis Beard's Rockabul, and a live-score performance of Sari Braithwaite's [Censored].
"We've been heartened to see how audiences come out to really show their support for both Australian and international documentaries" said ACMI's Director of Film, Kristy Matheson. 
The Non-Fiction Documentary Showcase screening program will continue until 16 March 2019. Visit the ACMI website for full details.
More To Come From AIDC
Although AIDC 2019 is over, the Australian International Documentary Conference continues operations year-round and will be seeking new donors for the Leading Lights Fund in the coming months.
Keep watch on the AIDC eNews for news and announcements about AIDC 2019 session podcasts, video interviews with delegates, and the post-conference survey.
We would also like to thank our many Partners, without whom the event would not have been possible.
We hope all those who attended AIDC 2019 had a fruitful and productive conference, and we look forward to welcoming you again next year.
Media enquiries:
Tracey Mair, TM Publicity
For AIDC 2019
Ph: 02 8333 9066 or 0419 221 493
To download this media release as a PDF, please click here.
28 February 2019
AIDC 2019 STARTS SUNDAY!
Are you ready to see the Bigger Picture?
Read More
20 March 2019
AIDC & ACMI PRESENT THE WORLD PREMIERE OF 'THE BURNSIDE CONVERSATIONS'
Followed by a Q&A with Julian Burnside AO QC

Read More