SHARE IN 80K OF FUNDING VIA AUSTRALIA UNCOVERED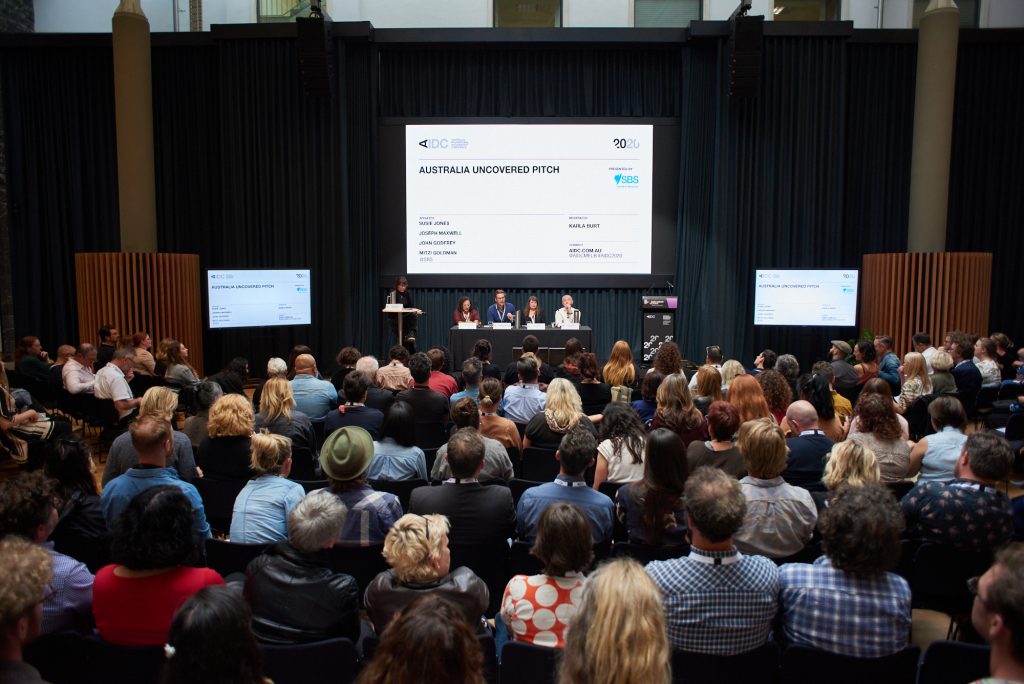 Here's your chance to share in up to $80,000 of development funds by participating in one of AIDC's most popular pitches! 
Australia Uncovered, SBS's strand of prime-time single documentaries exploring the many facets of life in contemporary Australia, is returning for its second consecutive year to AIDC 2021.  
By pitching your bold ideas during AIDC, six shortlisted projects have the chance to share in development funds with commissioned projects broadcast on SBS in 2022. 
Projects that are creative in their approach to style, form and construct are highly encouraged. Submissions must have something captivating to say about modern-day Australia and align with the SBS Charter. 
SBS has a grand history of supporting the broadcast of single documentaries with the financial support of Screen Australia, which has once again committed to backing the next round of Australia Uncovered titles.
Once again, SBS is also welcoming proposals from project teams seeking production funding and post-production funding. 
Joseph Maxwell, Head of Documentaries at SBS, said: "We were thrilled with the high calibre of pitches submitted last year which has resulted in a strong selection of uniquely Australian stories set to air next year which showcase the ambition of the Australia Uncovered strand. 
"Single documentaries allow us to showcase diversity and tackle issues challenging our society in innovative and inspiring ways, through often untold stories and from a variety of voices which reflect contemporary Australia. It's been a challenging year for so many Australians and we're looking forward to seeing the creativity and quality of our local sector come through in this year's submissions."
Alice Burgin, CEO/Conference Director, AIDC, said: "The Australia Uncovered pitch was a genuine highlight of AIDC 2020. The combination of incredible stories and professional pitches, not to mention the pot of gold at the end, was extremely inspiring. As we move through a challenging year, we look forward to once again celebrating the diverse talent of the Australian screen industry next March." 
Previous participants in Australia Uncovered:  
Life After Juvie
Production company: Marhaba Films
Key creatives: Charby Ibrahim (Writer, Director, Producer), Britt Arthur (Producer), Mish Armstrong (Producer), Jen Peedom (Executive Producer)
88 Days A Slave
Production company: Annamax Media Pty Ltd
Key creatives: Penny Robins (Producer), Christina Stenseth (Writer-Director), Mark Poole (Writer-Director)
Strong Female Lead
Production company: Northern Pictures
Key creatives: Tosca Looby (Director), Karina Holden (Producer)
Why Do People Hate Jews?
Production company: Princess Pictures
Key creatives: John Safran (Creator/writer/presenter), Laura Waters & Mike Cowap (Executive Producers)
The Hospital of Hidden Secrets
Production company: Southern Pictures Pty Ltd.
Key creatives: Laurie Critchley (Executive Producer), Liz Allen (Director/Producer)
The Bowraville Murders (working title)
Production company: Mint Pictures & Jumping Dog Productions
Key creatives: Allan Clarke (Director), Dan Goldberg & Stefan Moore (Producers and Co-writers), Susan Lambert & Adam Kay (Executive Producers), Mark Middis (Editor)
The Australia Uncovered pitch will take place during AIDC between 28 February to 3 March 2021. 
2 September 2020
SOUND IT OUT 2020 RECIPIENTS ANNOUNCED
Read More
30 September 2020
AIDC PRESENTS PRIZES AT CCDF & DMZ DOCS
Read More