ENTER THE MEET YOUR MAKER: XR MARKETPLACE
A MARKET FOR VR/MR/AR CREATORS WORKING ON NON-FICTION PROJECTS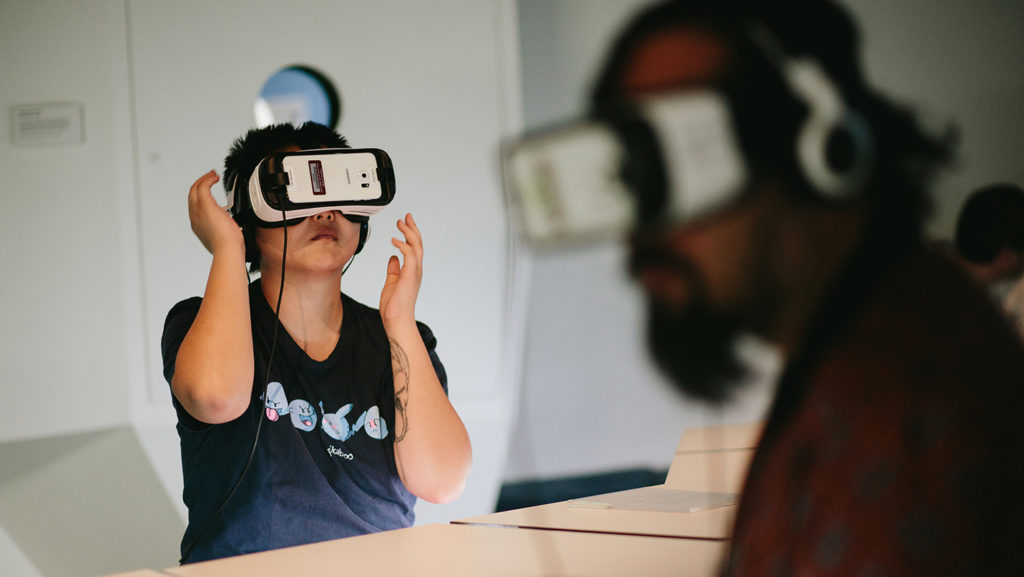 Be a Non-Fiction Innovator
Are you an immersive storyteller working in virtual or augmented reality? Want to find supporters for work that uses technology to create fresh perspectives on the world as we know it?  Then you should enter AIDC 2019's Meet Your Maker: XR Marketplace.
AIDC's Meet Your Maker: XR Marketplace is Australia's favourite pitching event specifically for non-fiction work in all forms of computer-altered reality (XR), including Augmented Reality (AR), Mixed Reality (MR), and Virtual Reality (VR).
Now in its third year, Meet Your Maker is designed to assist non-fiction creators in the XR sector to find new pathways to financing and exhibition opportunities.
With a proven track record in facilitating meaningful connections with funders, festivals, exhibitors and buyers, it's an event that no XR creator with a non-fiction project can afford to miss.
Meet Your Maker Outcomes
Projects that featured in Meet Your Maker in previous years have secured:
Over $1.1million in development and production funding from Screen Australia, Film Victoria, Screen West, SBS, and NITV, as well as private equity
Over 20 screenings at prominent film festivals, including Venice Film Festival, Marche du Film Cannes and SXSW
Creative partnerships with local and international organisations, including Warner Brothers, Australia Museum, Museums Victoria and Greenpeace
"An Excellent Launch-Pad"
Some previous highlights of Meet Your Maker include the experience of natural history filmmaker Briege Whitehead, who took part in 2017 and made a significant connection for The Antarctica Experience, the first virtual reality documentary about the Antarctic region.
"We loved the exchange at AIDC and highly recommend it. The director we have on board for the project [Phil Harper – David Attenborough's Great Barrier Reef VR Dive] came about through Meet Your Maker, who is the only person to have won a BAFTA for VR," she said.
Dominic Allen, director of the acclaimed multi-platform celebration of indigenous song and dance, Carriberrie, also found the marketplace instrumental in bringing the project to life.
"Meet Your Maker was an excellent launch-pad for us and we've gone on to secure cash finance as well as forge a number of production and sales and distribution partners," he said.
Who You'll Meet
Taking part in Meet Your Maker will bring you face-to-face with decision makers from companies and organisations like these prior attendees:
Google News Lab
ABC
Sheffield Doc/Fest
HTC
SBS Digital Creative Labs
Screen Australia
Tribeca Film Festival Storyscapes
Australian Museum
Adelaide Film Festival
Melbourne International Film Festival
State film agencies
How To Apply
Applications for AIDC 2019's Meet Your Maker: XR Marketplace are open now, and close Sunday 21 January, 2019 at 11:59pm.
To apply, head to the Meet Your Maker: XR Marketplace page.
26 November 2018
ANNOUNCING THE AIDC MASTERS SERIES
A wide-ranging masterclass program for every factual filmmaker

Read More
7 November 2018
SEE THE BIGGER PICTURE
It's time to announce our first speaker, marketplace guests and sessions for AIDC 2019.
Read More